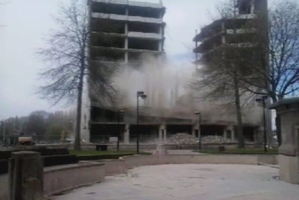 The earthquake-damaged Copthorne Hotel in Christchurch, which collapsed at the weekend, has been issued with an urgent demolition notice.
Demolition workers ran for their lives when the 10-storey central city tower collapsed on Saturday afternoon.
The floors pancaked on top of each other, leaving two outside walls standing. Nobody was injured.
Today, the Canterbury Earthquake Recovery Authority (Cera) issued its owners with a section 38 notice in order to speed up the removal of the site's remaining structure.
The Ministry of Business, Innovation and Employment (MBIE) has halted work on the Colombo St site while it investigates Saturday's unexpected collapse.
The owners have up to 10 days to submit a plan to remove the hazard and make the site safe.
MBIE and Cera will work with the site owners and their contractors to review the demolition methodology, a statement said today.
If it is approved by Cera engineers, MBIE will in turn lift its prohibition notice, allowing the demolition work to begin as soon as the owner's contractor is able.
- APNZ