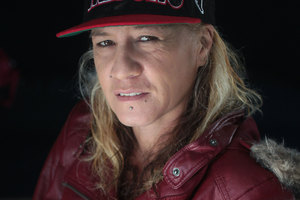 A Rotorua woman whose left foot was amputated after she was dragged for several kilometres behind a car is not a high priority for police, despite a warrant being out for her arrest.
An arrest warrant for Anna Eriepa, 38, was issued by the Rotorua District Court last Friday due to failing to complete a community work sentence.
A Ministry of Justice spokesman said Eriepa received the community work sentence in the Rotorua District Court on June 22 last year for a charge of receiving stolen property.
Eriepa suffered horrific injuries after she was dragged behind a car driven at high speed in May this year.
Her partner, Sonny Te Aramoana Waiti, 26, was later convicted of kidnapping her and wilful damage.
He is next due to appear for sentencing in Rotorua District Court on October 25.
Rotorua police Senior Sergeant Karl Konlechner said Eriepa's arrest warrant was "only a matter of process" and she was not on police's wanted list.
"We'll just make an approach to her, it's really just an administrative function. She's not someone we're actively looking for."
"We know where she lives and I know that we've been in contact with her over other things this week."
Due to her circumstances, chasing up Eriepa over failing to complete a community work sentence was "not exactly a high priority" for Rotorua police, Mr Konlechner said.
"That's not an issue for us."
Eriepa praised the actions of tractor driver Bernie Trumper for helping to save her life and blamed drugs and paranoia for her partner's actions, during an interview with Herald on Sunday in July.
She was adamant that Waiti had no idea she was being dragged behind the car.
"Sonny isn't a bad person," Eriepa said.
"I wasn't scared of him hurting me. He just got caught up in the wrong things - the drugs and that - and got paranoid."
Eriepa said she jumped because she needed to get out to avoid being killed in a crash.
"I felt him swerving and I got scared of being squashed in the boot."
- APNZ