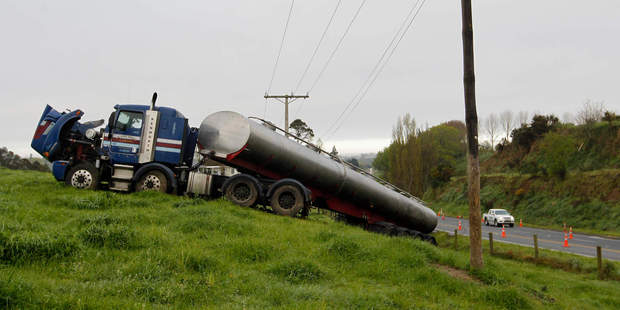 Four trucks have been involved in three separate crashes across the North Island today.
Two trucks sideswiped each other in foggy weather on Tirau Rd, Cambridge, Waikato about 6.15am, police said.
The incident did not block the road and neither of the drivers were injured, a spokeswoman said.
In another crash, a truck and trailer rolled on State Highway 1 south of Waiouru, blocking one lane of the highway, Inspector Chris Tate of central police communications said.
The crash happened near Deacon's Rd just before 5.30am
The driver was uninjured, Mr Tate said.
"There was a bit of a bend in the road and I assume it was either the conditions or the speed for the conditions [that caused the crash]."
It would take about an hour to clear the road, he said.
Earlier two people were injured when a Courier Post truck and trailer rolled near Bulls in Rangitikei.
That crash happened on Kakariki Rd, near State Highway 1 about 4am.
A central ambulance communications spokesman said two people suffered moderate injuries and were taken by ambulance to Wanganui Hospital.
The road was expected to be blocked until about mid-morning.
- APNZ