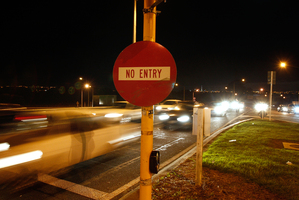 Police were en route to intercept a car driving the wrong way on Auckland's northwestern motorway this morning before the vehicle collided with another car.
An adult and two children in the car travelling in the correct direction were taken to hospital following the crash, as was the female driver of the vehicle travelling the wrong way.
Ambulance staff treated the injured at the scene, and took the adults to Auckland City Hospital and the children to Starship.
A spokesman for Auckland District Health Board said one adult and one child were then admitted into its care with serious injuries. Late this afternoon they were in a stable condition.
The crash occurred on the city-bound lanes of the northwestern motorway between Lincoln Road and Te Atatu.
A car driving the wrong way in the city-bound lane collided head-on with another car around 1.30am, police said.
The car was picked up on traffic CCTV cameras shortly before the incident. Police were en route to intercept the car before the accident occurred, Waitemata police district spokeswoman Beth Bates said.
The Lincoln Road city-bound on ramp was closed while the scene was cleared.
Initial indications were that the vehicle had entered the motorway at Rosebank Rd, Ms Bates said.
The age of the driver and whether alcohol was involved was yet to be determined.
"The driver will be interviewed upon her release from hospital.''
It would be several weeks before any potential charges would be laid, Ms Bates said.
An NZTA spokesman said a lot of construction work was underway in the area of the crash, but a change in the layout of the road was not believed to have contributed to the collision.
The police serious crash unit would be investigating.
- APNZ