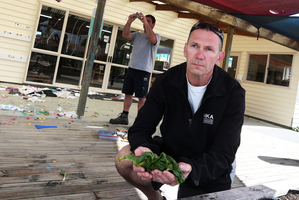 A garden planted by little kids has been destroyed by vandals in Kaitaia and a truck crash that cut power to 500 Matua residents are just two of the stories making headlines around the regions today.
A vegetable garden planted by young kindy kids has been "destroyed" by vandals.
A truck crashing into a power pole cut power to about 500 Matua homes last night.
A Masterton drink driver has narrowly escaped prison after his eighth offence.
Meet the man who beat Kim Dotcom at his own game over the weekend.
City Assist ambassadors and the Maori wardens began patrolling the Hastings CBD yesterday after a raft of incidents.
A series of vandalism attacks and burglaries has caused $20,000 in damage to a Wanganui organisation.
A month-long police sting on truants has seen a drop in shoplifting crimes in Whangarei.
Burglars are targeting North Dunedin homes, where student flats make easy pickings.
No need to panic! A tsunami warning siren system which went off in the Bay of Plenty this morning was a false alarm.
Masterton performer Cruize Karaitiana won a standing ovation from the crowd on New Zealand's Got Talent.
Pop sensation Stan Walker will take the stage in Hastings tonight.
Wanganui reminds readers what locals love about their city here.
And finally was your wedding out of this world? Now is your chance to be named Rotorua's Bride of the Year.
Other stories making headlines around the regions today include:
Auckland crime at 17-year low.
Catch the bus and arrive for free feed.
Record entries for aria singing contest.
Retailers hope free parking entices parents.