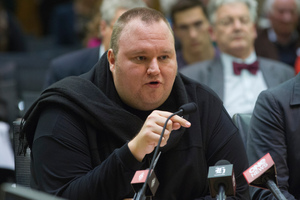 Kim Dotcom has been served with a summons requiring him to give evidence in Auckland District Court about his donation to John Banks' 2011 election campaign.
Mr Banks is facing a private prosecution by retired accountant Graham McCready, who alleges Mr Banks knowingly received donations from Mr Dotcom and SkyCity and recorded them as anonymous.
Mr Banks has pleaded not guilty to filing a false election return.
Mr McCready said Mr Dotcom was served with a summons at 1pm today to give evidence in court next month.
Mr Dotcom's security manager Wayne Tempero, his lawyer Greg Towers, and SkyCity chief executive Nigel Morrison have also been served with summons.
- APNZ