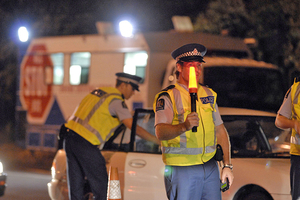 A Waikato woman has had her licence suspended immediately after she was found drink-driving at 8am.
Police said the woman was "toasted" after drinking all night then sleeping in her car before attampting to drive home.
Her licence was immediately suspended for 28 days after she returned a result of 735mcg of alcohol per litre of breath at a checkpoint. The legal limit is 400mcg.
"This woman was toasted at eight in the morning" said Sergeant Paul Scoble.
"She won the jackpot and spent the night drinking all her profits. She slept in her car and then attempted to drive home," he said.
"People still ask us on morning checkpoints 'do you get drink drivers at this time of the day'. Drink drivers don't discriminate with the time of day. It was only through the grace of God she didn't kill anyone on the road in her condition," Mr Scoble said.
The woman will appear in Hamilton District Court at a later date.
- APNZ