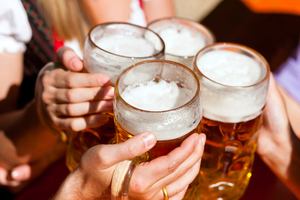 The University of Otago has a responsibility to help students drink responsibly and this could include building a new pub on campus, vice-chancellor Prof Harlene Hayne says.
Professor Hayne, who recently marked her second anniversary as vice-chancellor, said the university's efforts to tackle booze-fuelled misbehaviour were working, but that it was not against students drinking - as long as they did it safely.
To this end the university supported having a student watering hole in North Dunedin and if efforts to bring back the Captain Cook Tavern were unsuccessful it would look at building a pub.
"It is either going to be the Cook or something like the Cook. It is either going to be owned by the university, or somebody else."
She applauded the efforts of the Cook's owners to save the bar and said the university would not build a bar to compete with a rejuvenated Captain Cook Tavern if they were successful.
"[But] in the event that they can't make a go of it then the university will have to look at potentially putting a pub on campus, which is something that I have always been open to."
Professor Hayne said it was safer for students to drink closer to where they lived.
"I have been very clear about the fact that I don't want to see this end of town without a pub.
"I would much rather that the students did their drinking close to campus rather than wandering to the Octagon and, more importantly, stumbling back," she said.
The university did not have a grand plan to rid North Dunedin of pubs as some had suggested, with pubs - including The Bowler and The Gardies - closing because they were struggling to make money.
"It was no longer possible to make a living running a pub in North Dunedin, the university simply took the opportunity to buy strategically located real estate.
"Nobody's going to believe this, but we're actually very sad to see the Cook close, because it was the remaining North Dunedin pub."
If the university did open a new pub on campus it did not mean ReFuel - a university-owned pub already on campus - would close.
"If the university was to get into the pub business we would work very carefully with the student body to find out exactly what they wanted."