Neighbours say pioneering city architect's home is falling to bits.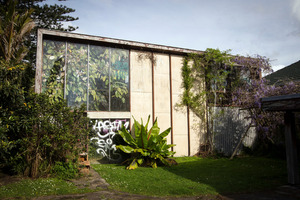 Neighbours of a dilapidated Westmere home built by one of Auckland's pioneer architects fear parts of the property will collapse on young local children exploring the inside.
The 1950s home, built by architect Barton Gillespie in William Denny Ave, has been boarded up for 10 years and has deteriorated badly.
Gillespie, who died in 2011, built the home for his family and lived there until the early 1980s. In 1984, Gillespie's son Robert bought the house from the family who lived in it, then rented it out.
Opus Architecture national manager Mark Burke-Damaschke said Burton Gillespie's design was 30 years ahead of its time. The architect experimented with solar heating and sustainable features such as natural lighting and shade.
Neighbours say attempts have been made to secure the house and tidy the grounds, but street kids, vagrants and rain have caused extensive damage.
One neighbour said the hot water cylinder collapsed through a top floor five years ago and rain collected on the leaking bitumen roof, trickling into the floors below. "You can't walk on parts of the floor. It's rotten."
She said local Westmere and Western Springs primary school children had been sneaking into the property.
The interior has been trashed, with graffiti on most walls and door handles and fittings removed. All the copper guttering has gone.
The property, with views to Cox's Bay, is thought to be worth well over $1 million. Smaller sections in a nearby gully recently sold for $1 million each.
Kristen Fordham, who lives nearby, said her friend wanted to buy the property two years ago but Robert Gillespie would not sell.
She thought the house was probably not salvageable.
"I think it's a goner."
Other neighbours said prospective buyers, architects and film crews often asked about the house.
Julia Christian said she wanted to buy it when she and her husband moved to the street 12 years ago.
But over the past decade she has watched the house deteriorate. Now the internal stairs are broken, making access to the mezzanine floor dangerous.
Robert Gillespie told the Herald on Sunday he was working with an architect to add a second level which would give 360-degree views across Auckland and the harbour.
Vandalism and theft of parts of the house made the project harder, he said.
He said the house's internal layout was "useless" for modern-day living.
The house is not classified as a historic site and has no formal protection. Auckland Council community safety manager Andrew Galloway said most of the graffiti was the responsibility of the owner.