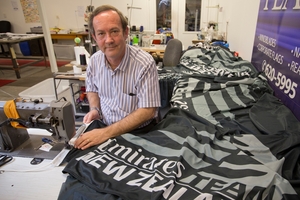 An Auckland flag maker has been inundated with Emirates Team NZ flag orders from all over the world and has hurriedly printed two extra lots already this week.
Flagz Group is the official supplier of flags to the team as well as to other America's Cup racers.
Managing director Shane Brown says his staff have been "working flat out" trying to keep up with the demand for the black and silver flags after hundreds of orders came in from Australia, America, Canada, Austria, Denmark, Sweden, France, Dubai and, of course, New Zealand.
"On Sunday, after the race last weekend, our phones went ballistic. We came into work on Monday morning and we had over 100 orders from the weekend alone, just for Emirates Team New Zealand flags."
Mr Brown said Kiwis had also been ordering the flags, with up to 400 sold in the past week, some of which were being taken with supporters up to San Francisco.
"We've had trouble keeping up with the demand."
When supplies ran out, Mr Brown rallied staff to print 100 more on Sunday, and another 40 yesterday. He was expecting another influx of orders after today's races.
He said the America's Cup was big business for Flagz Group.
"It's absolutely great business and people don't understand that a lot of industries like myself, we benefit from this."