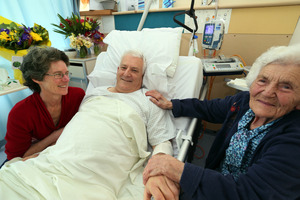 A Kaikohe man says it's "an absolute miracle" he survived a gruesome accident with a rotary slasher that saw him lose part of his leg.
Part of John Vujcich's leg was chopped off in a horror farm accident on the back of his farm in Bisset Rd on Sunday and today he spoke to the Northern Advocate from his bed at Whangarei Hospital.
Mr Vujcich said he was certain he would bleed to death if he stayed where he was as he could not see any way of getting back to his home, which was more than a kilometre from the accident site.
"I knew there was no way I'd be found in time. I didn't believe I could make it back either, but I knew I had to do something," he said.
Mr Vujcich and his wife, Elodie, say his survival is "an absolute miracle". He had taken the slasher to the back of the farm about 3pm on Sunday when he made the mistake of standing on the deck while it was running to fix damage done by a bull earlier in the day. His right leg went through the deck and into the blades.
He could see the injuries were serious and called out to God for help, pulled himself free and used his belt as a tourniquet to stem the bleeding. His foot was hanging on by a piece of skin. Somehow he climbed back onto his tractor but drove into a drain and stalled the motor.
"I thought, 'this won't look too good in my obituary'."
He managed to restart the tractor, backed out of the drain and flattened the first gate. There was no way of driving through the second, which was still 300m from the house. He hopped over to the gate while still gripping the tourniquet but by then his strength was ebbing. He lost his balance and fell onto his injured leg, thinking he was done for as his wife was not at home.
However, his wife had returned home unexpectedly and upon hearing him cry out in pain found him and called 111.
For more articles from this region, go to Northern Advocate