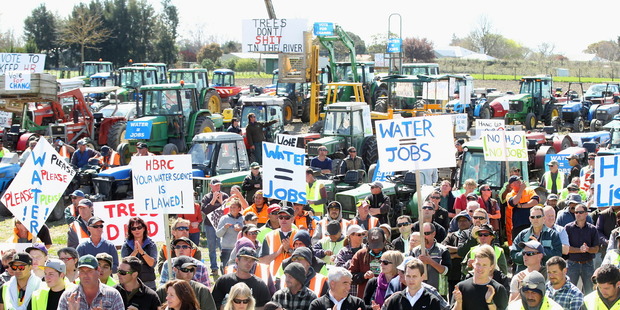 About 300 tractors took to the streets today to protest what growers see as the Hawke's Bay Regional Council's intransigence with water and drought.
The growers, under the loose umbrella of the Growers Action Group (GAG) are calling for councillors to be replaced to ensure a sustainable water supply for their crops.
The growers travelled from different sides of Hastings to meet at noon on Havelock Road. Tractors in the protest ranged from small orchard vehicles to large tracked harvesting machines. Corporate growers were there with their employees, as were smaller orchardists.
A number of guest speakers addressed the crowd, including GAG's preferred council candidates Rick Barker, Peter Beaven, Rex Graham and Tom Belford.
Ngati Kahungunu Iwi Inc chairman Ngahiwi Tomoana likened the council's refusal of water, to Twyford growers during the recent drought, to a refusal of water to save a burning building.
Paul Paynter of the Yummy Fruit Company was explicit about who growers should vote for.
GAG's preferred candidates spoke to the crowd of nearly 500, saying the sustenance of people was paramount when deciding how water should be allocated.
- Hawke's Bay Today