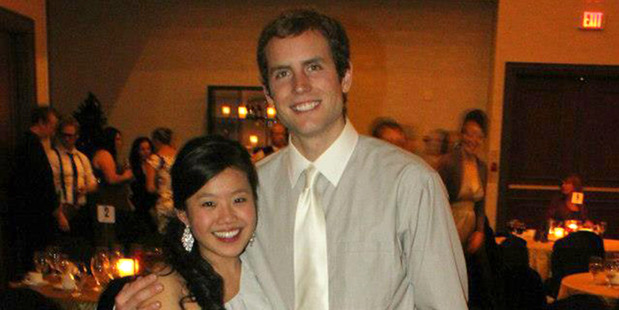 Police searchers have released a haunting photograph of the wrecked campervan chassis belonging to two missing Canadian tourists.
The rental vehicle was smashed to pieces after going down a remote West Coast gorge battered by heavy rain and landslides.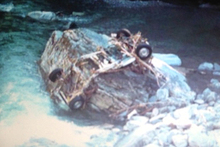 A fuel tank belonging to the wrecked campervan was found last night washed up more than 50km from where it left the road, while helicopters today spotted a seat from the van.
Family fears are growing as the search continues today for Connor Hayes, 25, and Joanna Lam, 24, who were last seen at Fox Glacier last Tuesday.
Yesterday, police found the van's rear wheels and chassis in a region of Haast Pass, at Haast Gates, which has been battered by heavy rain and landslides.
The body of the vehicle and the engine have yet to be found.
But last night a fuel tank believed to have come from their vehicle was found washed up on the beach about 7km north of the mouth of the Haast River.
The rivermouth is about 50km from the highway where the pair's vehicle is believed to have left the road.
At dawn this morning, 16 LandSar volunteers and police officers set off on foot to scour the Haast River, as well as along the river from below the gorge.
The wreckage was found near where the high water mark of the river was last week, police say.
Two jetboats were also on the river, while more a further helicopter search, using three spotters, is also in the air.
A police spokeswoman said the helicopter searchers spotted on of the seats "about halfway" down the river towards the rivermouth this morning.
Nothing else has been found.
A media conference will be hosted by West Coast Area Commander Inspector John Canning at the Greymouth police station at 3.30pm today.
Police are yet to confirm whether the couple, from Ontario, were in the vehicle when it left the road.
A Haast resident travelling the Haast Pass highway on Tuesday said they saw an unknown campervan ignore the road closure warnings and drive up the valley.
The resident turned around after seeing the signs.
Miss Lam was due to start working at the radiology department at Nelson District Health Board on Monday.
A spokeswoman said the board's chief executive Chris Fleming was "very concerned" about her disappearance.
Mr Hayes' older brother Lliam, 26, told the New Zealand Herald last night the family were holding out hope the couple were alive.
He said their spirits were "not the greatest, but still optimistic" and they had no immediate plans to come to New Zealand.
"Connor brought Joanna to New Zealand to get her settled for her new job. [They have] both done a lot of travelling before," he said.
Regular updates from his brother, who had previously worked in Government security and was due to start training for Canada's police force on his return, stopped last week.
"They were having a great time. He had been sending email updates to my family - the last one on September 8. He was going on a glacier tour on the 10th and that's his last-known whereabouts."
The couple had been dating for almost two years, a friend of Miss Lam, Tamara Sagadore told Canadian media.
She told CBC News the pair had been travelling in South America before coming to New Zealand to work in Nelson on a six-month contract.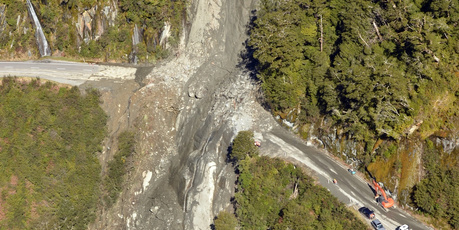 Ms Sagadore described the pair as a "perfect fit".
"I think it's just really difficult because everything's so unknown, especially because it's from such a distance. I spoke with her right before she left and she was just so excited and optimistic, and now this happening. It's almost unfathomable," she said.
Miss Lam's brother Jeff Lam, 27, told CBC News about his sister with the "big heart" and "infectious smile".
He's set up a search command centre in his family's Kingston lounge, and also a Twitter feed, #findjoandconnor for messages of support and hope and to encourage searchers to keep going.
"Hope they will be found...safe & sound," said one message.
"We're trying our best to continue our efforts and encourage the New Zealand search and rescue to not give up," he said.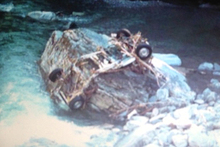 Lam's aunt, Jennifer Lam, told CBC News: "I'm being very optimistic and wishing for the best. All my hope is that they're okay."
Matt Thibault, a long-time friend of Lam who went to school with her in her hometown of Kingston, has been keeping in touch with New Zealand police, the Toronto Sun reports.
"It's been tough the last 24 hours keeping the hope up that everything is going to be okay," he said.
"Everyone has been trying to piece together what happened."
Police liaison are in continuous dialogue with the families with the Canadian Embassy, a spokeswoman said.
- APNZ