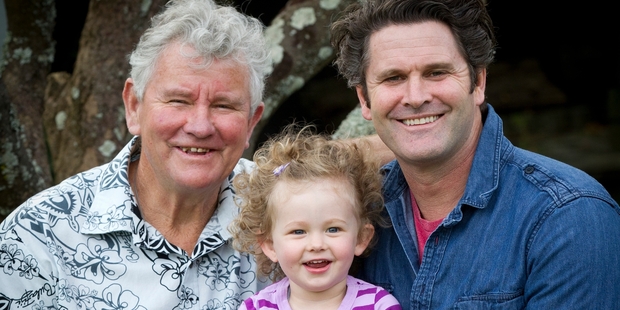 From left, Lance, Isabel, 2, and Chris Cairns. Isabel and Lance both have cochlear implants. Photo / Sarah Ivey
Chris Cairns is no stranger to standing up for what he believes in, and now he's back on New Zealand shores, the cricketer is doing his bit for the country's deaf community.
He and his family - wife Mel, daughter Isabel, 2, and son Noah, 7 months - arrived back in Auckland three weeks ago from Australia, where Isabel was born deaf.
Like her granddad, cricketing great Lance Cairns, the toddler has had life-changing cochlear implants, an operation that was state-funded in her mother's native Canberra.
Had she been born in her dad's homeland she would have qualified for an implant in only one ear.
"We were lucky that Issy was born deaf in Australia," said Chris Cairns, who will be donning a colourful top for Loud Shirt Day on Friday, the annual appeal of The Hearing House and the Southern Cochlear Implant Paediatric Programme.
The former Black Caps all-rounder has also backed a train safety campaign following the death of his sister Louise at a level crossing in 1993, and last year successfully sued Lalit Modi, after the former Indian Premier League commissioner tweeted false match-fixing allegations.
Lance had only about 7 per cent of his total hearing when fundraising by friends allowed for his implant three years ago. He is also passionate about the cause.
Before his implant he became a recluse and said if it wasn't for his connections in the cricketing world, where he is a revered coach and manager, he would have been unemployable.
Loud Shirt Day
What: The annual appeal of The Hearing House and the Southern Cochlear Implant Paediatric Programme
When: Friday, September 20
How you can help:
* Text HEAR to 5338 to donate $3 to the above causes
* Register at www.loudshirtday.org.nz for a fundraising pack to raise funds at your school or workplace
* Buy the official Dick Frizzell designed T-shirt online.