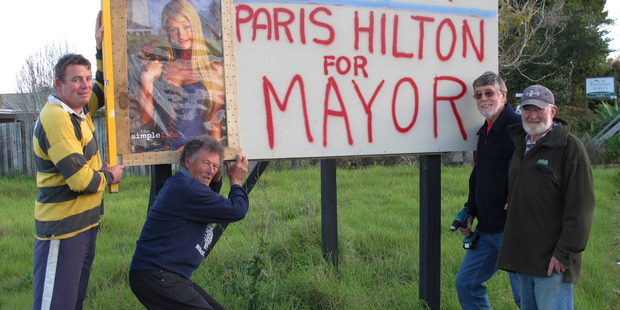 A prisoner's deceitful release from prison and Far North locals who want Paris Hilton as Mayor are just two of the stories making headlines around the regions today.
A prisoner tricked police into releasing him from the Rotorua court cells.
The Far North mayoral race has once again had a last-minute celebrity entrant.
Hawke's Bay mayoral candidates Wayne Bradshaw and Peter Butler have become the target of vandals.
A Tauranga teacher has been found guilty of stealing a student's ADHD medication
Machine gun preacher Sam Childers will be locked and loaded for the first time in Wairarapa on Thursday.
When Meryl Robertson was born back in 1913 Grahamstown had just been renamed Onerahi.
In Tauranga, Bosun the dog has found a new family.
Rotorua's City Guardians are being praised by police.
A man is in a critical condition after he fell through the roof of the Work and Income building in Wanganui.
A quick-thinking Napier couple avoided falling victim to an online scam.
Tia Loffley hopes her long locks can be put to good use after having her head shaved at a fundraiser.
The chips were down when five carvers tried their hand at chainsaw-carving wood in Oamaru on Saturday.
And finally, the 10th annual NZCT AIMS Games opened in dazzling style at ASB Arena last night.
Other stories making headlines around the regions today include:
Crash at Mt Bruce claims teen driver.
Kensington site eyed for medical centre.
Posts key to safety in quakes.
Man killed, woman seriously injured in drag train smash.