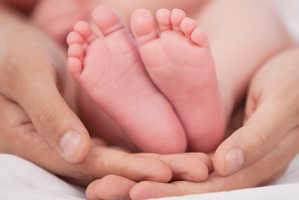 A coroner says the practice of parents sleeping in the same bed as their babies should be considered a form of child abuse following another infant death.
A coroner's finding released today into the death of a 2-month-old Bay of Plenty boy found he died of positional asphyxia as a result of co-sleeping with his parents last August.
Coroner Wallace Bain said the infant's death, like all co-sleeping deaths, had been preventable.
"In New Zealand we have, I think the figure's 55 to 60 co-sleeping deaths a year. All of those deaths are 100 per cent preventable," he said.
The baby's parents, whose identities have been suppressed, were sleeping on either side of the infant on the night he died.
While the infant - referred to as Baby A - had his own tri-pillow, it was likely the infant had been disturbed by his parents in the bed, causing him to slip down, pathologist Dr Fintan Garavan commented.
"When he slipped down the tri-pillow, his face became covered by soft bedding."
Babies of that age were only able to lift their heads for minutes before becoming exhausted. The boy's face would have sunk into the pillow and/or bedding, resulting in asphyxia.
Coroner Bain also said Baby A's mother had previously discussed with her midwife unsafe sleeping arrangements, as the midwife was aware of a history of alcohol and marijuana.
The midwife had sought an assurance that the baby would be sleeping in a cot, Coroner Bain said.
"That did not occur and the baby is dead."
The Coroner's Court viewed "co-sleeping and the killing of innocent babies" as a form of child abuse, he said.
"The court will recommend that the Government considers this aspect of child abuse in its legislative reforms.
Repeat cases of co-sleeping in families must also be addressed, he urged.
"These parents should have to prove they are fit to parent more children."
- APNZ