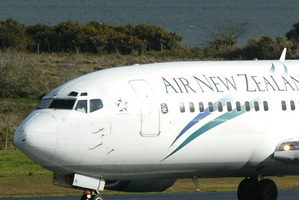 Air New Zealand could not find any fault with the aircraft involved in a cabin depressurisation scare last month.
The Boeing 737-300 experienced a gradual loss of cabin pressure between Wellington and Auckland on August 30, causing the oxygen masks to deploy in the cabin.
The aircraft descended to 7000 feet, at which point oxygen masks were no longer required.
Airport emergency services were put on standby in Auckland but the flight landed safely.
An Air New Zealand spokesman said its investigation was unable to find any issue with the aircraft's pressurisation system, however, some of the components were replaced as a precaution.
The aircraft has now been returned to service.
Olympic triathlete Hamish Carter, who was on the flight, described the experience at the time as "a bit of a shock''.
"It was relatively scary for a while, not something you'd expect to happen.
"There was no panic or anything, it's just that doesn't usually happen.''
The Transport Accident Investigation Commission is also investigating the incident, and is unlikely to complete its report before September 2014.
- APNZ