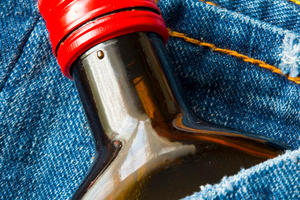 Even Superman would struggle to look natural with a bottle of tequila stuffed down his pants, a judge has told a man who stole from a liquor shop.
Judge Robert Murfitt, speaking in Greymouth District Court yesterday, said Joshua William Kelly, 21, of Ikamatua, had thought that he would be able to walk undetected from Super Liquor Greymouth with a bottle down his trousers on September 2.
When the shop attendant twigged on to the theft and challenged Kelly and two people with him, Kelly made a run for it and straight into the arms of a waiting policeman.
Kelly said he stole the $44 bottle of liquor because he was broke.
Judge Murfitt, making the reference to Superman, said Kelly's plan was flawed because it would have been obvious that he had a bottle in the leg of his pants.
He fined Kelly $150.