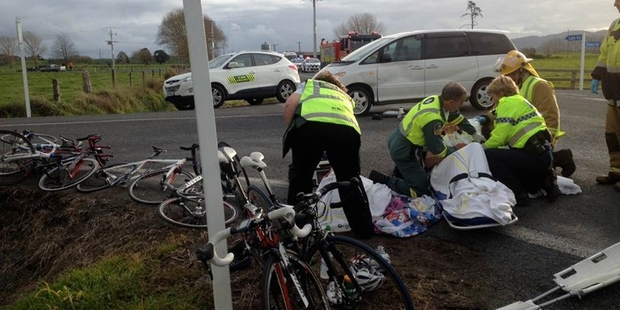 Five top schoolgirl cyclists and their coach were hurt when they and a car collided on a rural Waikato road while they were training for a major competition.
The crash left the girls, all 17 and members of the Waikato Diocesan School for Girls senior A cycling team, and their coach, 21, in hospital last night, some with serious but not life-threatening injuries.
The cyclists were treated at Waikato Hospital's emergency department yesterday before being discharged, a Waikato District Health Board spokeswoman said.
It is the latest of a series of accidents involving cyclists and motorists.
A doctor who chanced upon the crash scene at the intersection of Lake Rd and Dawson Rd near Taupiri alerted emergency services about 4.25pm.
"We are feeling very fortunate that we're not facing something much worse," the principal of Waikato Diocesan School for Girls, Vicky McLennan, said last night.
The cyclists were training for the North Island Secondary Schools Cycling Champs, to be held in Palmerston North in three weeks' time.
The school's most recent newsletter names the team as Maxyna Cottam, Maddison Farrant, Maggie Allan, Brigitte Allan and Loran Mathis.
Their coach, Pip Sutton, is a former Dio student and cycling team captain who is studying at Waikato University.
Three of the group suffered serious injuries and were airlifted to hospital by the Westpac Waikato Rescue Helicopter. Two others were taken by ambulance with moderate injuries.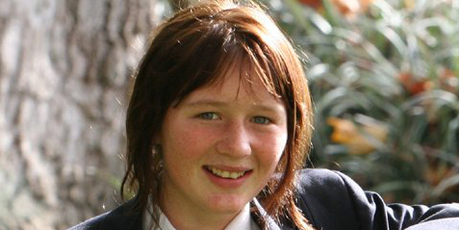 Last night Maxyna's parents were rushing to Hamilton from their New Plymouth home. "As soon as we got the call we jumped in the car and started driving," her father, Jeremy, said as his wife drove.
"We haven't heard a lot."
Mr Cottam is himself an accomplished cyclist, as is his son Denay who competed at the 2010 Youth Olympic Games in Singapore.
Ms McLennan told the Herald that all five members of the team had competed at a national level in development and age-group cycling squads.
The girls were hit "all together", she said.
Four of them were boarders at the school, she said.
"These are all very talented girls. They are top cyclists," said Ms McLennan, who was at the hospital last night.
"They were very fortunate to have a doctor on the scene very quickly. It was him that contacted the helicopter service, because he was aware of what was needed," Ms McLennan said.
The driver of the car was not injured. He spoke to the Herald at the scene.
"I helped them getting up and untangled them and got their bicycles out of the way," he said.
The driver's wife said the couple were deeply concerned for the cyclists. She said her husband had been travelling home to Hamilton from work.
"He's in shock at the moment. Two-and-a-half years we have travelled these roads," she said.
Sergeant John Stapleford of the Waikato Highway Patrol said it was too early to say if charges would be laid. The police Serious Crash Unit would investigate the cause of the accident and is expected to speak to the driver and all six of the cyclists as soon as they are up to it.
Mr Stapleford said the collision was a reminder to drivers on rural roads to be considerate of other road users - especially cyclists.
- Additional reporting Natalie Akoorie and Morgan Tait