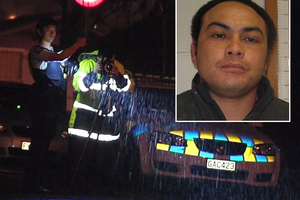 The police officer that was brutally bashed in Auckland last night was attacked from behind and then had his head repeatedly stomped on.
Detective Inspector Jim Gallagher told reporters today the sergeant, of 15 years experience , had been alerted to the fact a woman in the car may have been in trouble.
He followed the car and when it pulled over in Sandrine Ave and was speaking to the woman in the passenger seat .
It was then he was stuck at the back of the head and then viciously assaulted when he fell to the ground .
"He was punched and kicked profusely from what seemed to be a lengthy period of time"
Mr Gallagher said the sergeant suffered a fierce blow to the back of his head and then was stomped when he fell to the ground.
Witnesses described the punches and kicks the sergeant received as " full force "
Mr Gallagher said the sergeant suffered extreme violence "That could well have been fatal "
He praised the actions of two women who were following that intervened and tried to stop the attack and shield the sergeant.
The 36-year-old South Auckland man wanted in relation to the savage late-night attack has a history of violent offending and should not be approached, police warn.
Walter George Tauatevalu of Otara has been identified as a person of interest by police following the brutal attack.
As well as fractured eye sockets, he has fractured cheek bones and received significant damage to his throat.
His injuries were so severe that he is lucky to still be alive, Mr Gallagher said.
Tauatevalu was known to police and had a "history of violence", he warned.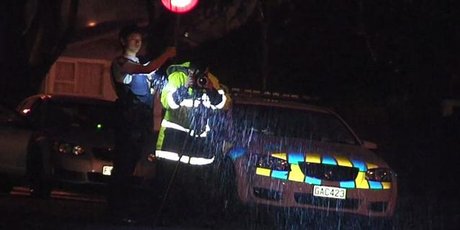 Two women, who were friends of the woman in the car, had followed the vehicle as they had concerns for their friend's safety.
When they saw the attack on the officer, they intervened and stopped it from getting worse.
"It could well have saved his life," Mr Gallagher said.
While witnesses were still being interviewed, Mr Gallagher said it was clear there was "a connection between the female and the male driver".
"It is probably domestic-related," he said of the incident which was reported to police.
The woman in the car and her friends who had intervened in the attack were speaking with police, Mr Gallagher said.
It was too early to say whether alcohol or drugs were involved.
Mr Gallagher said the officer, who was by himself at the time, managed to activate an emergency call for help when he was assaulted.
Performing routine vehicle stops was not out of the ordinary for officers who worked alone, he said.
A decision was made by officers in the field depending on what information was available about the situation.
In this case, the officer was unaware the driver would react violently - however no police officer should ever be attacked when stopping a car, Mr Gallagher said.
The injured officer, who has already been treated at Greenlane Hospital and Middlemore Hospital, is due to be transported to Auckland Hospital this afternoon.
Anyone with information on Tauatevalu should call 111, or contact Counties/Manukau CIB on 09 295 0200. Information can also be reported anonymously through Crimestoppers on 0800 555 111.
Do you know more? Send your story, photos or video here.
- APNZ