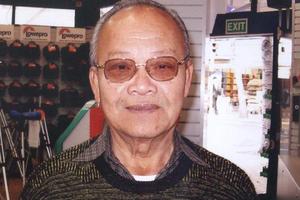 Wellington Police have re-opened a missing person case from 2008 after receiving a new lead.
Operation Dustin is a homicide investigation following a missing person report in 2008 for 68-year-old New Zealander Do Trieu.
Trieu was last seen on August 21, 2008 and was reported missing by his daughter about three weeks later.
He is believed to have been killed around the time of his disappearance, and Police are now seeking Trieu's body and establishing who was responsible for his death.
Detective Senior Sergeant Warwick McKee, head of the investigation, says the case was re-opened as a homicide investigation after receiving new information.
Mr Trieu moved to New Zealand from Vietnam in 1980 and worked as a taxi driver in Wellington.
"Mr Trieu was a honest hard working man lived in New Zealand for nearly 30 years and was known by many in the community," McKee says.

"I am determined to locate his body and give his family and friends some resolution and answers to the many questions that they seek."
Police are appealing for anyone that has any information relating to the death of Trieu to contact the inquiry team on 0800 DUSTIN (0800 387 846).