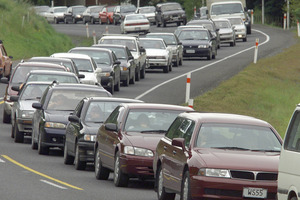 Traffic has backed up on State Highway One north of Auckland between Warkworth and Orewa this afternoon after a serious crash.
SH1 has been reduced to one lane at Puhoi.
Police and other emergency services are now at the scene after the head-on collision between two cars on Hungry Creek Rd at about 4.30pm.
Two men have been taken to hospital. Police said one man was in a serious condition.
The road was closed so the Fire Service could free the trapped men, but one lane has now been opened as the Serious Crash Unit examines the scene.
A stop/go system is operating, but traffic is backed up to Windy Ridge Road, Warkworth on one side, and Grand Drive, Orewa on the other side.
Motorists are advised to avoid the area.
- nzherald.co.nz