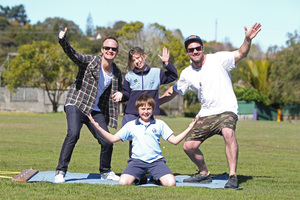 A primary school is thumbing its nose at a cautious health and safety culture by hosting a gala including activities such as a magic carpet ride, a water fight and the chance to smash an old car with a sledge-hammer.
Glenfield's Bayview School will host its "un-PC gala" this Saturday, starting at 10am.
Principal Diane Raynes said she put her hand up for the event as a way to ensure children were able to take acceptable risks. "So many things have been ruled out now that kids aren't actually able to take risks.
"The things that we are doing, the risks are absolutely minimal - we are talking about a lolly-scramble," Ms Raynes said. "The potential dangers are that the child might get hit in the eye, or get pushed. It's not like we are getting them to bungy jump off the roof."
Saturday's gala, hosted with radio station ZM, comes as an increasing body of overseas research demonstrates the importance of "acceptable risk" in play for children of all ages.
Principals' Federation president Philip Harding said there was a push-back against overcautious rules and practices. Bullrush had been reintroduced at some schools, and other rough and tumble activities were returning.
"I applaud all of these things, I think a little bit of risk-taking is all good fun." The challenge is for schools to seriously manage the risk.
Those aged under 18 will need to have a waiver signed by their guardian to participate.
Risky business
* North Shore's Bayview School to host on Saturday a gala as a push-back against trend to eliminate "risky" activities
* Games include tug of war, a water fight, surfing a carpet towed behind a ride-on mower, and the opportunity to smash an old car with a sledge-hammer.
* The principal says it's important kids are allowed to take acceptable risks so they can learn consequences.