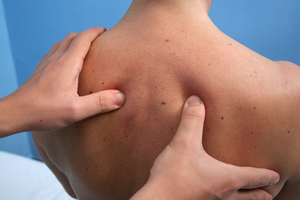 The wife of an osteopath who is accused of inappropriately touching his patients says the complainants did not seem distressed after being treated by her husband - and one gave a "glowing" review of the massage she received, a court has been told.
June Davis worked as the receptionist at the Gisborne practice where her husband Richard James Davis, 53, is alleged to have sexually assaulted 10 of his patients between June 2004 and March 2012.
Davis denies 11 counts of unlawful sexual connection and 13 counts of indecent assault.
Giving evidence in her husband's defence yesterday, Mrs Davis said the complainants were "absolutely not" distressed after being treated by her husband.
She told a jury in the High Court at Wellington that one woman had paid $10 extra after her treatment.
"She was absolutely glowing and raving about the wonderful massage she had just received," Mrs Davis said.
Under cross-examination by the Crown, Mrs Davis denied the complainant had pretended to be pleased, or that she had paid $10 extra so she could leave sooner.
Mrs Davis said she was aware her husband treated patients who had stripped down to just their underwear, but was unaware some removed their knickers.
She said she was rarely present when patients were in her husband's consultation room, and had seen none without their clothes on.
Giving evidence in his own defence, Davis earlier denied touching his patients sexually.
Crown prosecutor Steve Manning accused Davis of offending in a clever and subtle way, by combining therapeutic and sexual touch.
"Absolutely not true," Davis responded.
Davis has been accused of inappropriately touching some of his clients' breasts and genitalia, and had one patient bend naked over a treatment bed during treatment.
He has said the women must be either lying or confused, and he believed he had the women's consent for all the treatment he performed.
Lawyers will give their closing addresses this morning before Justice David Collins sums up the case for the jury of seven women and five men.
- APNZ