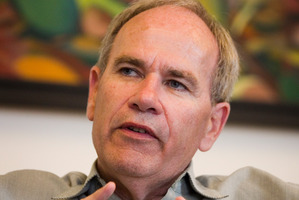 Auckland Mayor Len Brown is promising a post-election review of council-controlled organisations (CCOs), which could see the number trimmed from seven to four.
In his first election policy announcement, Mr Brown said the review would look at the structure, operations and opportunities for cost-savings of the seven council bodies, which run about 75 per cent of Super City services.
The mayor thinks the CCOs have worked reasonably well in the first three years, bar some concerns at a local level, but says the time has come to review the structure and see what should stay and what should change.
Last night, Mr Brown said he was keeping an open mind about the outcome of the review, saying it would be unwise to signal major change. The Herald has previously reported that the council was actively exploring merging four CCOs into two and scrapping Auckland Council Investments altogether.
Waterfront Auckland could be rolled into Auckland Council Property to give it a stronger business focus. Auckland Tourism, Events and Economic Development (Ateed) and Regional Facilities Auckland, which have overlapping interests, could be merged.
Super City legislation prevents the council making changes to Auckland Transport and the council is understood to be happy with the structure for Watercare Services.
In 2010, Mr Brown made big promises about holding the CCOs to account and making sure they worked in the interests of local communities.
A Herald report on the CCOs in October last year found the council bodies make few, if any, policy decisions under the gaze of public scrutiny and the cost for seven boards of directors, seven chief executives and seven executive teams ran to $13.1 million a year.