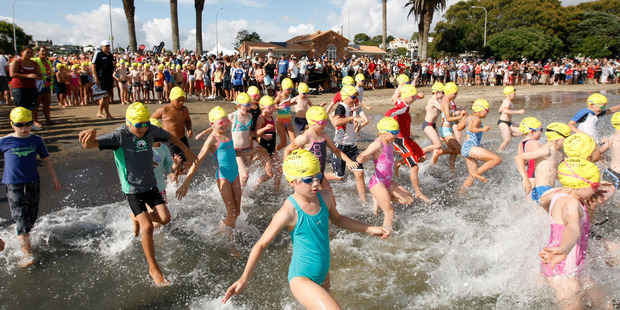 Beachgoers and picnickers flock to St Heliers in the summer months, enjoying the safe swimming and views of the dormant volcano Rangitoto across the water.
What they probably don't realise is that part of St Heliers is an eroded volcano, with remnants still visible today. The seaward side of the cone has been eroded to form cliffs, while the crater was drained and filled in the 1950s to create Glover Park.
St Heliers was known as Whanga-Nui (Large Bay) by Maori, and it was at Karaka Bay in 1840 that the Treaty of Waitangi was signed by the Tamaki chiefs and representatives of Queen Victoria.
In 1841 Major Thomas Bunbury bought a 46ha block of land, which was mostly devoted to farming. In 1883, the area was first called St Heliers Bay due to the fact that Major Walmsley, a manager at Glen Orchard farm, thought the locale looked similar to the beach resort St Heliers in Jersey.
In the early 1880s, the St Heliers and Northcote Land Company bought and subdivided about 240ha of land, and built a large wharf to accommodate a ferry service from downtown Auckland, something that was vital to lure prospective buyers to what was planned to be a model seaside suburb.
Helped by the regular ferry service, St Heliers began to grow and by the early 1900s there were some permanent residents, holiday homes and accommodation for holidaymakers. The ferry service also made it a popular destination for daytripppers. A bus service began in 1915 but it was a long, slow trip via Remuera that meant most people preferred the much quicker ferry ride.
When Tamaki Dr was pushed through from downtown Auckland along the shoreline right out to St Heliers in the early 1930s, the suburb was transformed and development accelerated.
Today, there are still some earlier homes remaining as part of a mixture of residential styles that include family homes on full sections, new apartments and townhouse on cross-lease sections. The latter two styles of home are popular with retirees who like the laidback coastal feel of the suburb, the warmth of the north-facing slope and the safe swimming beach. Ladies Bay, at the eastern end of the beach, was a popular spot for nudists but complaints from the public about inappropriate behaviour have made life difficult for those who like to bare all at the beach.
It's a rare controversy, though, in a suburb that has a settled population that is largely wealthy, older and European.
Jack Brabant, sales manager at Bayleys St Heliers, says: "St Heliers has always been desirable as an established suburb, with its unique beach village lifestyle, spectacular harbour views and popular cafes and restaurants, as well as having some of Auckland's best schools.
"While many residents are loyal second or third generation owners we are seeing an increasing number of buyers with young families, who value the still-central location and amenity, while enjoying a great environment to raise a family.
"Many view St Heliers as a favourite of the bays suburbs, with the book-end Cliff Rd providing amazing views and some of the best real estate in the Eastern Suburbs."
Karin Cooper, of Barfoot & Thompson, says: "St Heliers is a suburb anchored by a bustling little village by the sea. It has a great selection of shops, old cafes and restaurants - plus two new ones (387 and La Fourchette) that have added greatly to the vibe of the village. The library is incredibly busy and hosts many exhibitions and displays. The local business association is very active with numerous events including a festival sand castle competition."
There is also a craft and gourmet food market set up behind the library that is held on the third Saturday of every month.
Karin says the re-sanding of the beach some years ago has made it even more popular.
She says: "The beachfront was also upgraded with a boardwalk that is a starting point for a pleasurable walk around the waterfront to Kohimarama, Mission Bay and beyond."
Recent sales
An easy-care terraced townhouse with three bedrooms, two bathrooms and tandem garage at 3/47 Vale Rd was sold for $695,000 by Karin Cooper, of Barfoot & Thompson St Heliers. Her colleague, Kelly Midwood, sold 23B The Parade for $1.9 million. This architecturally redesigned and refurbished three-level cedar and concrete cavity house sits on a 337sq m site and has open plan living, four double bedrooms, three bathrooms, double garaging and a roof deck with outdoor sitting room. Glenice Thompson, of Barfoot & Thompson St Heliers, and Margaret Johnston, of Barfoot & Thompson Panmure, marketed 72a Maskell St, which sold at auction for $952,000. The refurbished Hardiplank and concrete block townhouse has open plan living, three double bedrooms, two bathrooms and an internal-access single garage plus carport. Larry and Pam Sewell, of Bayleys, oversaw the sale of 23 Waimarie St, a four-bedroom, three-bathroom weatherboard and brick home with single garage that changed hands for $1.245 million. Vanessa Mowlem, of Bayleys, sold 41 Lammermoor Dr for $2.5 million. This home has four generous bedrooms, multiple living rooms and features quality construction and craftsmanship.
Property Prices
An entry-level property of two or three bedrooms on a 400sq m site sells in the range of $600,000 to $800,000. Two-bedroom units on cross-lease sites can be bought for sums in the $600,000s. Townhouses with three or four bedrooms on sections of about 400sq m sell in the $800,000s, with similar-sized standalone homes on larger sites going for up to $1.2 million. Top-end houses and apartments sell for $1.2 million-plus. Karin Cooper, of Barfoot & Thompson, adds, "There were 81 sales in St Heliers from January 2013 to July 2013 with the average price being $1,178,248." Earlier in the year, St Heliers joined Auckland's "$1 million club" - the group of suburbs where house prices average more than $1 million.
Rents
Two-bedroom homes generally rent for between $400 and $550, while three-bedroom homes normally start at around $600 with more luxurious homes renting for $1000-plus. Larger homes start at $700 and can top $1000 a week.
Best streets
Any street that is in close proximity to the beach or village - such as Cliff Rd, The Parade, and Tamaki Dr. Streets that are further up with great views, like Challenger St and Towai St are highly desirable. Also Parkside St, Hanene St, Springcombe Rd, Devore St, Brilliant St, Woodside Cres, Lammermoor Dr and Glen Atkinson Ave.
Schools in the area
St Heliers Bay Primary, Glendowie Primary, Glendowie College. Also nearby are Sacred Heart College, Churchill Park Primary and St Ignatius Primary.
Local attractions
TAMAKI DR
Beautiful harbour views, often framed by pohutukawa, are part of the attraction for runners, walkers and cyclists who enjoy this flat, virtually uninterrupted, wide footpath that runs beside the coastal road from St Heliers into the city.
ST HELIERS BEACH
Re-sanded and safe for swimming, this beach is ideal for families. There is a walkway up to Cliff Road, where there is a lookout and a playground with wide harbour views. At low tide, the rock pools at the base of the cliffs are fun to explore.
VELLENOWETH GREEN
Dating back to the subdivision of St Heliers in the 1880s, Vellenoweth Green is a park in the middle of the suburb that is also home to sports clubs. It is a focal point for community activities and sports events. A marble drinking fountain at the reserve commemorates the completion of a reticulated water supply to the area in 1914.