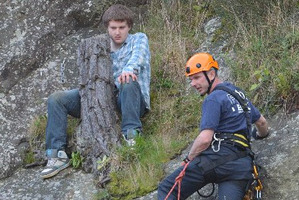 A 17-year-old Port Chalmers youth was saved from what was described as certain death after his fall off a cliff was broken by a fortuitously placed tree stump yesterday afternoon.
Emergency services were called to Lady Thorn Rhododendron Dell, Port Chalmers, following reports a youth plunged 10m before wrapping his legs around a tree stump 25m off the ground.
Youths at the scene told the Otago Daily Times they were going to climb in the area, when the 17-year-old decided to try his luck without any ropes.
One of the group, who declined to be named, said he heard his mate scream and fall over the edge.
"I thought he was gone."
His friends watched in shock as the Port Chalmers youth appeared to almost pass out after landing on the stump.
"If it hadn't been for that stump he would have been in the death notices," Willowbank station officer Howard Weir said.
The area was a popular place for local teens, but "really was not a place for kids with no skills or equipment".
Mr Weir said a helicopter rescue was considered, and it was fortunate for the youth that senior firefighter Dave Palmer, a Fire Service rescue instructor, was working.
Mr Palmer said the youth was upset he had put so many people to so much trouble, including Port Chalmers volunteer firefighters, police and ambulance personnel.
However, Mr Palmer could not believe the youth had been climbing in an area used by rock climbers for practising, with no equipment.
"He was just millimetres away from a fatality. It is almost a vertical cliff."
The youth was placed in a rescue sling, attached to the firefighter's rope system and taken 25m to safety. He was visibly shocked and had large rips in his jeans. The youth was taken to Dunedin Hospital as a precaution.