Murder victim had just fulfilled her lifelong ambition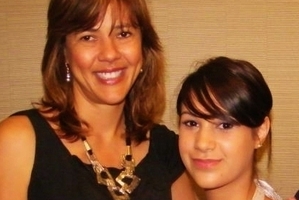 Glenys Stanton had only dated her suspected killer, John Mowatt, for a few weeks, her family has revealed.
In their first interview since her murder, Stanton's family said Glenys was living her dream when her life was cut short. Now they are preparing for her funeral tomorrow.
Stanton was a mother of two daughters, Kristen and Nicole. Today Nicole, 19, publishes a letter to her mother in the Herald on Sunday.
Stanton, 47, and the new man in her life, Trevor Waite, 51, were killed a week ago at Waite's rural Opaheke home.
Stanton's former partner, Mowatt, 51, took his own life on Wednesday at Woodhill Forest, near Helensville. Police believe Mowatt shot the couple.
Waite's funeral was held on Friday; Stanton's is tomorrow and Mowatt's body is yet to be released to his family.
Stanton's sister, Denise Michl, said she met Mowatt about half a dozen times and he was "quiet and polite".
"Others might have had an inkling but we hadn't."
Mowatt and Stanton had only been together a "couple of months", Michl said. "They weren't in a relationship, just dating."
Stanton's family have asked police to pass on their condolences to Mowatt's family - he has a former wife and three children, as well as elderly parents and a sister.
"They're victims, too, of course," Michl said. "We're happy that there's not going to be a trial now. I think that's the best for all three families."
Shortly before she was killed, Stanton fulfilled a lifelong ambition. "She'd been a flight attendant for two months ... It was just her dream job. She was so happy."
Stanton and the two men were members of Meetup.com, which Michl said was a way to meet groups of like-minded people for outings.
Before her Air New Zealand role, Stanton worked at the front desk of Danske Mobler's head office.
Police expect to formally identify Mowatt's body this week, and receive ballistic reports on three firearms: one from the scene of Mowatt's death and two from his addresses.