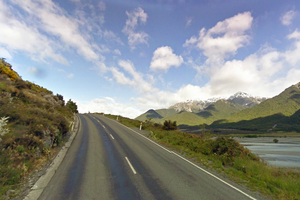 A woman is dead and five others injured after a van rolled some 30m down a bank onto train tracks in the central South Island this morning, police say.
The vehicle left State Highway 73 between Cass and Bealey Spur, south of Arthur's Pass, about 6am.
A police spokesman said the isolated location meant details were scarce at the moment but he could confirm one woman had died.
The van, which was carrying six people, was thought to have gone some 30m down a bank before coming to rest on railway tracks below.
Three helicopters were sent from Christchurch and Greymouth to ferry the injured to hospital.
A Canterbury District Healthboard spokeswoman said two of the injured were in a critical condition and three were stable.
A Kiwirail spokeswoman said trains between Christchurch and Greymouth had to be cancelled this morning and 130 passengers were transported by bus instead.
The road was also closed this morning but police said it had since reopened.
- APNZ