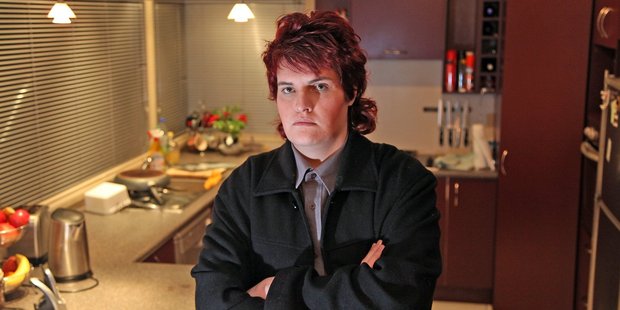 A gay man living with a rare medical condition that gives him a feminine appearance says he has been unfairly discriminated against by a Tauranga bar that refused him entry.
At 24 years old, Jamen Staiger was diagnosed with Klinefelter's syndrome.
"Basically you are part woman, part male, and I notice it all the time. I want to be a woman but on the other hand I want to be a guy and it's really confusing for me."
Mr Staiger, now 25, was born male but developed "girly" features and was comfortable dressing as a man most days but dressed as a woman if going out.
Mr Staiger regularly visited bars around The Strand and did not experience trouble gaining entry except for the Bahama Hut, where door staff had refused him entry several times in the past year.
Mr Staiger, who says he does not drink, was kicked out after he was accused of being drunk the last time he visited the bar two weeks ago.
"But I'm not a drinker. I'd had nothing to drink that night and they said, 'You're drunk, get out'.
"Then they said it's the way you dress. To my friends they said, 'He's a she/he and we don't let them in here'."
Mr Staiger said he wore make-up, heels and a dress but felt he was unfairly discriminated against. He did not know anyone else with Klinefelter's syndrome in Tauranga. In the United Kingdom, between 1 in 500 and 1 in 1000 boys are born with the condition.
A friend, who was with Mr Staiger two weeks ago, said the doorman who initially let them in was the same who kicked him out less than a minute later claiming Mr Staiger was "too drunk".
The woman, who would not be named, said she questioned the bouncer and told him they were both sober.
"They just kept saying he's too drunk. That's when I said, 'Is it because of the way he's dressed'? They said, 'Yes, other people might get offended'."
"Then he was across the road and they were pointing him out and laughing. Then they started pulling the fingers to him across the road. Personally I think the bouncers at Bahama Hut are very unprofessional," the woman said.
"I felt that if we went back we would be humiliated in front of everyone."
The incident follows one several weeks ago that resulted in Mr Staiger complaining via the bar's Facebook page.
"I heard a lot of them [security] were laughing, calling me a tranny. Just a lot of them were teasing me in front of the public and all the other security guards," he said.
"I can't help what I'm born with."
Tauranga's other bars were "lovely" but Mr Staiger and his female friends enjoyed the music of Bahama Hut.
"I want an apology and I would like to be told that anyone of any gender can be allowed entry to a club."
Owner Jason McCarthy declined to comment on the matter when contacted this week, referring queries to co-owner Jade Nelson who did not return calls.
Hospitality NZ Waikato/Bay of Plenty regional manager Alan Sciascia said he would be "very surprised" if a business turned away a person based on his or her dress.
"No business can refuse a person based on sexual orientation. You can't discriminate on that, age, race or religion, but if there were issues with a person's behaviour, that's a different matter."
A Human Rights Commission spokesman said sexual orientation was one of the grounds for potential unlawful discrimination and someone could not be refused entry into a bar, or anywhere where goods were being purchased, because of it.
For more articles from this region, go to Bay of Plenty Times