Eight children mourn a parent after shooting in forest and double-murder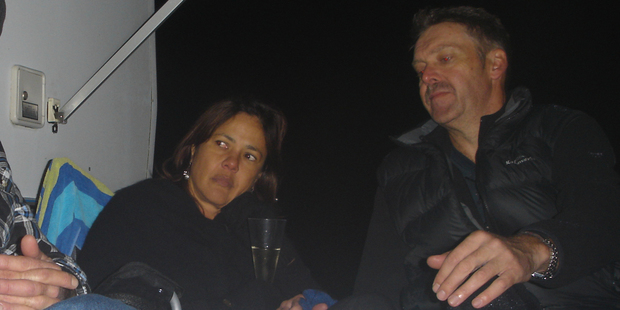 Three firearms are being tested to see which was used in the murders of Trevor Waite and Glenys Stanton.
Mr Waite, 51, and Ms Stanton, 47, were shot multiple times on Friday night or in the early hours of Saturday, the Herald understands.
Their bodies lay on Mr Waite's bed in his Opaheke home until his daughter Kelsey, 18, found them on Sunday.
Ms Stanton's former boyfriend John Mowatt, 51, died in Woodhill Forest near Helensville on Wednesday morning after evading police, who wanted to speak to him about the double murder, for much of the day. Officers found his body moments after hearing a gunshot.
It is understood that due to the nature of Mr Mowatt's injuries, positive forensic identification is required before police will release his name publicly.
Detective Inspector Dave Lynch believed Mr Waite and Ms Stanton died on Friday night or Saturday morning.
"There were multiple shots fired and both suffered multiple gunshot injuries," he said.
"Police have recovered a number of firearms. At this stage three of them are of the same calibre used in the killings. These will undergo forensic testing to determine if any are the murder weapon."
A source told the Herald that Ms Stanton and Mr Mowatt met in April through a hiking group set up through dating website findsomeone.co.nz.
"John was not into hiking and only joined because he knew Glenys was on the group and wanted to meet her," said the source. In April, Mr Mowatt "got chatting" to Ms Stanton.
"He asked her out for a meal on the Friday evening after Anzac Day."
Soon after asking Ms Stanton out, he "poured his heart out" to the source.
"I realised he was a very troubled man ... We knew it was never going to last, but never could have predicted the outcome."
It is understood Ms Stanton and Mr Mowatt had dinner together last Tuesday but the state of their relationship after that is unclear.
The three deaths leave behind eight children who have lost a parent.
Mr Waite is survived by Kelsey and teenagers Elliott and Claudia, Ms Stanton by adult daughters Kristen and Nicole, and Mr Mowatt by three children.
All were separated or estranged from the children's other parent.
"The children from all three families are devastated but are coping admirably in the circumstances. They all have strong family support," said Mr Lynch.
"When the Waite and Stanton families were briefed about the events in Woodhill Forest, they immediately empathised with the dead man's children as well, which shows their character and mana."
Tributes followed yesterday for Ms Stanton and Mr Waite, who met through social networking site meetup.com.
In a death notice, Ms Stanton was described as a "beautiful mum" and grandmother. "Taken from us too early, our hearts are broken," her family wrote.
Air New Zealand chief executive Christopher Luxon said Ms Stanton, who worked as a flight attendant, "was a wonderful person and loved her job and was very good at it".
Triple death
April: Glenys Stanton meets John Mowatt.
Friday/Saturday: Ms Stanton and friend Trevor Waite gunned down in his Opaheke home.
Sunday: Kelsey Waite finds her father and Ms Stanton dead.
Monday: Police go to Waimauku to speak to Mr Mowatt, who flees.
Tuesday: Mr Mowatt is found dead in Woodhill Forest.
Today: Mr Waite's funeral.
Next Monday: Ms Stanton's funeral.