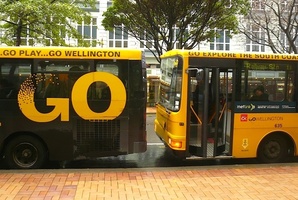 Police and the New Zealand Transport Agency have ordered 28 Wellington buses off the road over safety fears.
The buses were removed from service because of oil leaks that posed a fire risk following a two-day joint NZTA/police operation to assess the safety of the region's buses and to ensure that a range of serious faults previously discovered on 14 buses in May had been addressed.
Kate Styles, NZTA regional manager, access and use, said: "While it is encouraging that a number of the safety faults identified by our operation in May have been addressed, it's disappointing that so many buses were found on the road with serious oil leaks which had not been fixed.''
Senior Sergeant Willie Roy, said the common theme among all 28 vehicles ordered off the road was serious oil leaks, "an obvious fire hazard''.
Other significant faults included insecure fuel tanks and battery boxes and faulty lighting.
Mr Roy said the buses represented about 30 per cent of the 104 vehicles checked. When combined with a range of other safety faults detected, 47 per cent of the buses stopped and checked had some kind of fault, he said.
- APNZ