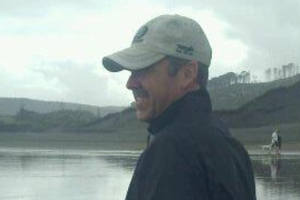 The NZ Herald can reveal the man at the centre of the double homicide investigation who shot himself at Woodhill Forest late last night was John Mowatt.
The 51-year-old was a father-of-three and a recent ex-boyfriend of Glenys Stanton who was gunned down alongside Trevor Waite at his Opaheke house at the weekend.
A friend confirmed that it was Mr Mowatt who died at the forest and said a group of people who knew him were gathering to try understand what happened.
Do you know John Mowatt? Contact the Herald here.
In an online profile, Mr Mowatt said he enjoyed the outdoors, exercising and said he was "well-travelled, articulate and fond of good wine [and] sunsets".
It is understood he is estranged from his wife.
Earlier today, Counties Manukau district commander superintendent John Tims told media the armed offenders squad were only 50 metres away from Mr Mowatt when he shot himself.
Mr Tims said police were interested in talking to a number of suspects yesterday and they found and spoke to some of them.
One "in particular, a male Caucasian, aged 51, unemployed from Waimauku, we could not find yesterday afternoon, but at about 9pm last night we did get phone calls from a friend and family members of this male saying that he was in a distressed state, he was unstable and that he was in possession of a firearm.
"He also made comments that you could infer he was talking about the homicide in Ponga Rd.
"Police went to find him, and a patrol from the shore located his vehicle - a black Ford Falcon - in Woodhill Forest.
"AOS members were deployed to the scene, along with [the police helicopter] Eagle,'' Mr Tims said.
"Eagle located this male, AOS members cordoned and contained the area ... before they could contact this male on his cellphone, he shot himself.''
The North Shore CIB were conducting a scene investigation at the forest, Mr Tims said.
"There is a lot of investigative work that needs to be done to cement that inference into evidence,'' Mr Tims said.
The coroner and Independent Police Conduct Authority have been informed of the death.
A gun had been recovered from the forest, but police were yet to confirm whether it was the same one used to kill Glenys Stanton and Trevor Waite.
No shots were fired by police at Woodhill forest last night, Mr Tims said.