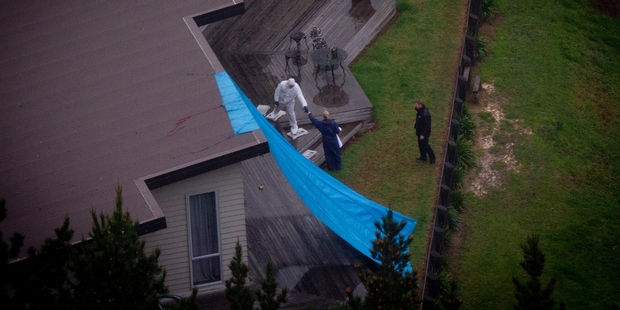 Police were last night piecing together the grisly deaths of a man and a woman at an idyllic South Auckland lifestyle block.
The bodies were found by the man's teenage daughter yesterday morning at the Ponga Rd home he rented in Opaheke near Papakura.
Police described it as a violent crime scene and launched a criminal inquiry. They had not ruled out last night the involvement of a third person.
Vero Insurance accounting manager Trevor Waite, a father of three, is listed as living at the four-bedroom address.
Police said last night they had identified the dead man and Victim Support were with his family, but they did not know who the woman was. They are expected to formally name the man today.
----
Do you have more information? Email us here.
----
Aerial photographs taken by the Herald showed large blue tarpaulins covering parts of the house and road.
Police in boiler suits were walking around the large property using metal plates to step over a deck. The plates are used to preserve evidence at crime scenes.
A 4WD vehicle was parked next to a fence along the property boundary. A blue tarpaulin was on the ground near it and police tape marked an area around the car.
A cordon, about 200m from the house that blocked Ponga Rd and adjacent Coal Mine Rd, was still in place late last night and was guarded by police.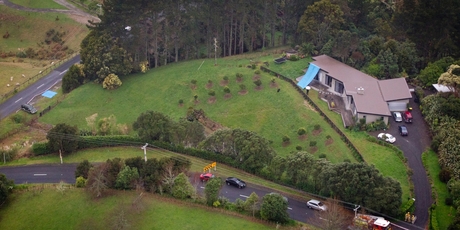 Detective Inspector Dave Lynch said it was still unclear what had happened between Friday night, when the 51-year-old man was last heard from, and 11.20am yesterday when he was found dead in his bedroom.
"We don't know very much at all," he told media during a press conference.
He said the daughter came home with a female friend late on Saturday night. When her father hadn't got up by late yesterday morning, she went to check on him.
"They woke up to find a pretty tragic scene," he said.
Investigations by ESR staff and a pathologist uncovered evidence suggesting a firearm was used at the scene. However, police stopped short of saying they had found a weapon.
Police were focusing on identifying the woman, who was believed to be around the same age as the man, said Mr Lynch.
He said the deceased man was a tenant at the property, but it was unclear how long he had been there. He said the property owners lived overseas. Neighbours spoken to by the Herald said they did not know who lived at the address.
Despite not ruling out the involvement of a third person, Mr Lynch said there was no known risk to the public.
"The public should not be worried about safety. Crimes like this are rarely ever random. I wouldn't be concerned if I lived in this community."