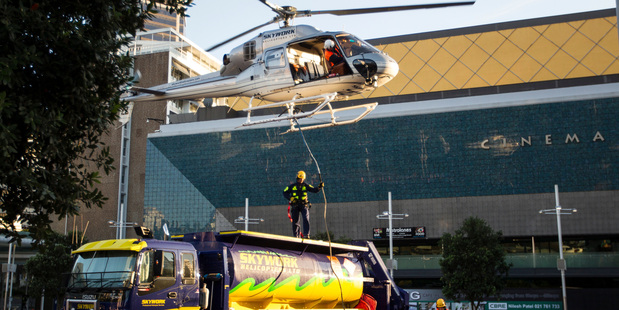 In a seamless half-hour operation, a helicopter lifted new digital projection gear into the largest movie theatre in New Zealand yesterday.
The equipment came in four loads, plucked from a truck in Auckland's Aotea Square then lowered through a trapdoor in the Event Cinemas building roof.
New 3D projector and equipment racks are part of a makeover at Imax, which will include replacing the theatre's five-storey-high screen, the largest cinema screen in the country.
"We expected to re-open in late September," said Event Cinemas general manager Carmen Switzer.
Projectionist Bruce Blackley said the roof hatch was last opened in 1999 to lift in the cinema's 70mm film projector, which will remain on-site.
"It's easier to handle a computer disk than assemble up to half a tonne of 70mm film for a single feature," he said.
"These films arrive in 300m reels, but that goes through the projector in about three minutes.
"Avatar needed 47 reels, which it took 15 hours to make up."