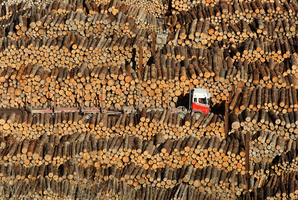 The Ministry for Primary Industries has confirmed a biosecurity incident at the Port of Gisborne in which two logs were loaded with an export shipment - despite being earlier rejected because of fungi.
A ministry spokesperson said the two logs were loaded onto the ship Loch Melfort but then had to be unloaded while the vessel was berthed at the port.
An MPI (Ministry for Primary Industries) authorised inspector had earlier rejected the logs, but they were still loaded on with the other batch.
"The inspector went to verify that the two rejected logs had been removed. When it was apparent that they had not been removed, MPI were notified and we informed the exporter that we would not be able to provide certification for that consignment of logs," the spokesperson said.
The exporter had the rejected logs removed.
The MPI spokesperson understood the rejected logs were identified and removed within 24 hours, and all parties involved co-operated fully.
"The marshalling company is going to make an addition to their MPI-approved procedure manual around how they manage log rows inspected at a satellite location that are transferred to another location," the spokesperson said.