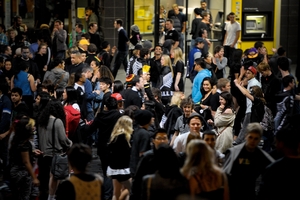 John Key vows New Zealanders will not be subject to mass surveillance. Photo / Jason Dorday
A law expanding the legal powers of the GCSB to spy on New Zealanders is expected to pass into law by one vote this evening with Prime Minister John Key taking his first speech in the House on it in a bid to allay concerns about mass surveillance.
He said yesterday that he and GCSB director Ian Fletcher would resign if he found that the GCSB had engaged in mass surveillance because it would be unlawful.
The Opposition last night failed in the House to get an amendment accepted restricting the GCSB's access to the content of communications to cases of serious cyber intrusion - Mr Key's stated aim.
Mr Key set out his policy intentions in a statement to the Herald last week and gave notice of his intention to make it clear in the final reading.
But the Opposition argued that the best place to set out intentions was in the law itself, not in statements to the Herald or in speeches to be interpreted by courts at a future date.
The political heat over the bill stepped up during question time when Mr Key revealed the contents of a private Beehive meeting between himself and Labour leader David Shearer to discuss the bill.
Mr Key claimed Mr Shearer had wanted to keep it secret. They had gone up the back stairs after a meeting of the Intelligence and Security Committee in the Beehive to ensure Green co-leader Russel Norman didn't see him.
Mr Key said his deputy chief of staff, Paula Oliver, had gone to discuss the bill with Labour foreign affairs spokesman Phil Goff and deputy leader Grant Robertson.
"On numerous occasions we reached out."
Mr Shearer virtually invited Mr Key to discuss the meeting through a question he asked designed to set the record straight about who initiated attempts to get broader political support.
"Did he or anyone in his office ever contact the Labour Party to obtain broader support for the bill?"
Mr Shearer told reporters later he had initiated the meeting with Mr Key, through Tony Ryall who sits on the intelligence committee, contrary to claims made by Mr Key earlier.
Justice Minister Judith Collins confirmed that the police had used the interception skills of the GCSB to track paedophiles. Such work was on hold until the bill passed.
What's different
Under current act, the GCSB:
* Gathers intelligence by spying on foreigners.
* Cannot spy on New Zealanders to gather intelligence.
* Protects Government communications from cyber attack.
* May help other domestic agencies such as SIS, Police and Defence and other entities in an unspecified manner.
Under new act, the GCSB:
* Protects Government communications and important private sector systems from cyber attack.
* Can spy on New Zealanders' communications content under cyber security, though John Key says it will be rare and on a second warrant only.
* Can help specifically the SIS, Police and Defence, to spy on New Zealanders if the other agencies are authorised under warrant or statute.
* Still cannot spy on New Zealanders to gather foreign intelligence.
Metadata
* The word metadata (eg data logs rather than content) is not mentioned in the current act or the proposed act but the Attorney-General has stated in the Second Reading that the Government regards metadata as communications _ and therefore a warrant will be required by the GCSB to access New Zealanders' metadata.