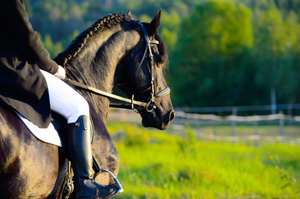 New Zealand eventing rider Tom Gadsby has been killed in a fall during a cross-country event at Somerford Park Horse Trials in Cheshire.
Gadsby, 26, was competing in a one-star class event on board The Drover when his horse tripped at a fence yesterday afternoon (UK time).
Equestrian Sports New Zealand chief executive Jim Ellis said the equestrian community was deeply saddened by the news.
"On behalf of ESNZ members I express our sincerest condolences to Tom's family and close friends,'' he said in a statement.
"Tom was a talented showjumper and eventer who was in Europe to fulfil his dream of competing as a professional event rider - a dream he achieved but which has been tragically cut short.''
He thanked colleagues at British Eventing, their officials and medical staff who did everything possible for Tom after his fall.
British Eventing chief executive Mike Etherington-Smith said everyone was saddened and shocked.
"Our thoughts and prayers are with Tom's family at this really sad time,'' he said.
Gadsby was based near Huntingdon in Cambridgeshire and had been competing in the UK since last year.
Gadsby, whose home town is Kerikeri in Northland, competed up to intermediate level in eventing in New Zealand before deciding to concentrate on showjumping.
However, after many years competing at grand prix level showjumping, including two successful years in Germany, he decided to make the change back to eventing in 2012.
This year he gained the ride on Clapham's young eventing horses, with considerable success at the lower level. He had high hopes of representing New Zealand at the top level of the sport.
British Eventing, ESNZ and the International Equestrian Federation will investigate the incident as will relevant UK authorities.
- APNZ