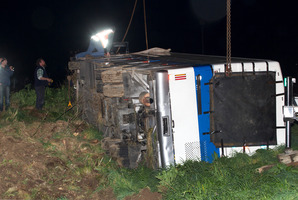 A bus carrying 27 passengers rolled last night as its driver apparently tried to avoid a truck, leaving six people in hospital - the latest in a series of horrific weekend road accidents.
Five people were killed and a heavily pregnant woman was critically injured in the series of crashes around New Zealand.
The Tranzit Coachlines bus carrying 27 passengers rolled on State Highway 57, north of Shannon in Manawatu, about 6pm.
A passenger said he looked up as he heard the bus driver blaring the horn. A truck was heading towards them and the bus driver swerved to avoid it. The bus rolled, coming to rest on its side.
Six people were taken to Palmerston North Hospital with moderate injuries, said St John communications manager Mark Tregoweth.
Other passengers were taken to a Shannon hotel, which was turned into a welfare centre so paramedics could check their condition.
"They were very, very shaken up," said the Club Hotel publican's daughter, Janelle Bishop.
"They were saying they were just driving and then they were in a ditch."
Herald photographer Mark Mitchell said more than 20 passengers were at the hotel.
"Several people had bumps and bruises on their ears, their noses, someone had an ice-pack on his head where he's whacked it. It was all from when people hit bars and got flung against windows. One guy I spoke to got flung from his seat to the other side of the bus."
Locals stopped by with blankets and offered assistance.
Staff served food and drinks, before family members came to collect those too scared to catch a replacement bus to Palmerston North.
In a separate crash just after 4pm, a Madge Coachlines bus and a van collided on Riverbank Rd near Otaki.
The bus driver, aged in his 50s and from Palmerston North, was thought to be suffering from a medical condition and was airlifted to Wellington Hospital. The driver of the van was also hospitalised. No passengers were hurt. All were transferred to another bus to continue their journey.
"There were over 30 people in the van," Westpac rescue helicopter crewman Dave Greenberg said, "so all in all it is quite lucky that this didn't turn into a major-casualty incident."
Police are urging motorists to take care and stick to safe speeds following the spate of accidents - several of which were fatal.
One man, aged in his 20s, died and two other people - including a woman 32 weeks' pregnant - was critically injured when two vehicles crashed head-on on Whangaparaoa Rd outside the Manly fire station on the Hibiscus Coast about 4pm yesterday.
Lynette Wright was at home when she heard "a big bang" and went outside to see what had happened.
She saw the dead driver slumped in his seat. The cars had extensive damage to their fronts. "It was terrible, shocking, especially the car that the young guy was in ... We just went outside to see what it was but we didn't want to stand outside and stare for too long out of respect."
Earlier, a 21-year-old man and 18-year-old woman died when the car they were travelling in crashed on State Highway 82 at Waihao Downs in South Canterbury.
Emergency services were not alerted to the crash until an injured person climbed 20m through long grass from where the car came to rest in a gully, and was found by a passing motorist, who called police about 8am yesterday. It is thought the crash happened overnight.
Alcohol, speed and the travellers' non-use of seat belts are believed to have contributed to the deaths.
The three people and another were travelling south and police said the car missed an easy left-hand bend, crossing over to the opposite lane, then off the road and down a steep bank. There were no skid marks on the road to indicate braking.
The car struck a tree and then a fence post, bouncing into the bottom of the gully beside a creek about 20m below the road surface.
There were also two deaths on Rotorua roads.
One person died and others were injured after a truck and car collided on State Highway 30 near the Hell's Gate tourist attraction at 11.15am on Saturday.
And at 4.30am yesterday, a man lying on the Te Ngae Rd part of State Highway 30 was hit by a car and killed.
In another crash, a 33-year-old man was injured when the car he was in collided with another on State Highway 63, west of Blenheim.
Acting police superintendent Peter McKennie urged all drivers to "get back to the basics".
"Speed, alcohol and non-use of seatbelts were once again contributing factors in this weekend's fatalities," he said.
"Drivers need to take responsibility by making sure all passengers are wearing seatbelts, driving at safe speeds within the speed limit and by not getting behind the wheel under the influence of alcohol or drugs."
Horror weekend
Yesterday
* Six people were taken to hospital with moderate injuries after the bus they were in crashed on State Highway 57 near Shannon about 6pm.
* A bus driver aged in his 50s, thought to be suffering from a medical condition, was taken to hospital after his vehicle and a van collided on Riverbank Rd (State Highway 1) near Otaki about 4pm. The van driver was also taken to hospital.
* A man died and two people were injured when two cars crashed on Whangaparaoa Rd at Manly near Auckland about 4pm.
* A male pedestrian died when he was hit by a car on Te Ngae Rd (SH30) about 4.30am.
Saturday
* A 21-year-old man and 18-year-old woman died and two people were injured in a crash on State Highway 82 in Waihao Downs, South Canterbury.
* A person died and others were injured in a crash between a truck and a car on State Highway 30 near the Hell's Gate tourist attraction at Rotorua at 11.15am.
- additional reporting: Anna Leask, APNZ