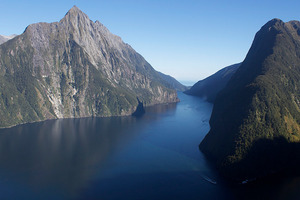 A Chilean man plunged to his death after taking a photograph at Bowen Falls, in Milford Sound.
The 19-year-old, who has been working as a seasonal worker in Milford Sound, joined two friends to climb a track above the 161m high Bowen Falls about 5.30pm yesterday.
"It is believed that one of the members of the party was taking photographs when he slipped and fell some distance to the base of the falls,'' Acting Senior Sergeant David Kennelly, of Invercargill, said.
His friends tried unsuccessfully to locate the man, before rushing to raise the alarm at the nearby Milford village.
Emergency services including the Milford Emergency Response Team searched the area in the dark.
The man's body was located in the water near the base of the falls around 6.30pm.
The body was flown by helicopter to Te Anau.
The Chilean Embassy had been advised, and his name is expected to be released once next of kin have been notified.
Acting Snr Sgt Kennelly said the death was being treated as an accident, and had been referred to the coroner.