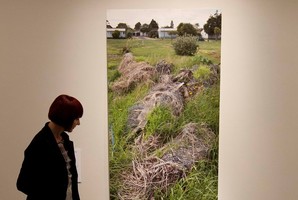 A giant photograph of state houses described as "strikingly ordinary" has won the National Contemporary Art Award, and a faded old curtain was also recognised.
The $15,000 prize for the annual award was presented to Auckland artist Dieneke Jansen last night for the image at the former air force base in Hobsonville.
Judge Jon Bywater described the artwork as "strikingly ordinary, yet also strikingly strange".
"Its subject is some overgrown debris in an empty section, in front of some unremarkable state houses," Mr Bywater said.
"At the same time, it is a technically improbable-looking image, crisply focused from one end to the other of a large print that hangs down the wall and into the room, from blades of grass in the foreground right to trees on the horizon."
The image, entitled Morrison Drive, Hobsonville 23 November 2012 and constructed from 20 photographs, shows an area which was earmarked for redevelopment under the "gateway housing" scheme to help first-home buyers until it was axed last year by the Government.
"Prime Minister John Key suggested that creating housing for low-income earners in more affluent suburbs was 'economic vandalism'," the artist wrote in her explanation.
Mr Bywater chose the winner from 37 finalists featured in the award exhibition at Waikato Museum, Hamilton.
Merit awards went to Brent Hayward, for his painting Psychedelic River Tribe Moored Up for a Trade, and Zac Langdon-Pole, for an old curtain he stretched over a frame and titled Disguised as its Physical Self.
Mr Bywater said the sun-bleached pink curtain on its wooden stretcher might be mistaken for a painting of itself. "The traces of its former use evoke a room we can't see into, the passage of time and light."
Considered one of the premier national art events, the award is renowned for its controversial winners.
In 2009 the winning entry was condemned after Berlin-based artist Dane Mitchell arranged for museum staff to use packing from other entries to create a pile of rubbish on the floor.
Last year's winner was a bus shelter, temporarily erected outside the museum, which attracted the homeless, graffiti and litter.
The Waikato Society of Arts, which began the award in 2000, stepped in as a sponsor this year and more than 200 entries were received.
The National Contemporary Art Award exhibition is open to the public from today until November 10.