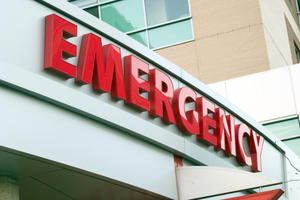 A 70-year-old truck driver has died after falling through a roof at a warehouse last night.
Emergency services were called to the bulk fertiliser storage warehouse at Ballance Agri-Nutrients opposite the entrance to the Port of Tauranga, Mt Maunganui about 10.40pm.
Police northern communications Shift Inspector Steve Kose said the man was delivering a load of fertiliser to the warehouse when the accident happened.
"He's obviously stepped off and fallen through the roof and fallen between three and nine metres,'' Mr Kose said.
The man suffered head injuries and was taken to Tauranga hospital in a "very critical, life-threatening condition'', Mr Kose said.
He later died.
Fertiliser company Ballance this morning said the man had been making a delivery to its Hewletts Rd site when the accident happened.
"He was driving a truck for a logistics company bringing raw materials off the waterfront onto our site,'' Ballance group general manager supply Jack Herder said.
"We're working with the authorities to establish how the incident occurred,'' Mr Herder said.
Conditions were fine and the site was well-lit at the time, he said.
The Ministry of Business, Innovation and Employment's labour group is investigating.
- APNZ