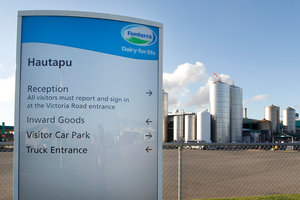 This country went outside normal Commerce Act parameters to allow Fonterra to be established as an entity large enough to dominate an international market. Photo / Christine Cornege
Normally, four inquiries would represent serious overkill. That, however, cannot be said of the Fonterra infant formula scare.
The fear of damage to this country's international reputation for dairy exports makes imperative a comprehensive response that examines the incident from every angle. Each of the investigations - two internal Fonterra inquiries, one by the Ministry of Primary Industries and one by the Government - will play a role in this.
But it is the Government's inquiry that will carry by far the greatest weight. That and the sheer importance of the issue provide reason enough for the Prime Minister to have reached for the powers granted by a largely forgotten five-year-old bill.
Indeed, the previous Government's Inquiries Bill was envisaged for just this sort of situation. It was championed by the Law Commission as a means of dealing with immediate issues "where a quick and authoritative answer is required".
That need has led to the inclusion of some serious armoury, notably powers to compel witnesses to give evidence under oath. That is denied ministerial inquiries, while a commission of inquiry would simply take too long.
These new powers are trenchant but it is possible to see they could be appropriate when the likes of multinational companies are important elements of an inquiry. The Government is, therefore, justified in fast-tracking the bill as the precursor to a short, sharp inquiry into how the botulism-causing bacteria got into Fonterra whey concentrate. The form of that investigation will be announced next week, as will the personnel. Overseas experts should be involved, perhaps including Chinese input.
The Government's inquiry should serve several purposes. It will demonstrate to China and other markets that such issues are taken seriously. It also indicates the intent to hold people accountable. Hopefully, it will also provide reason for full confidence in the systems in place by confirming this was an isolated incident.
That is important to New Zealanders, as well as overseas markets. This country went outside normal Commerce Act parameters to allow Fonterra to be established as an entity large enough to dominate an international market. New Zealanders deserve reassurance that subsequent events have not shown that to be the wrong course.
The two Fonterra investigations cannot match that of the Government in impact. It is, however, reassuring for New Zealanders to see a figure of the stature of Sir Ralph Norris leading a board-level inquiry into the circumstances and the main decision points relating to the affected product and Fonterra's business procedures, systems and practices. The other, at management level, is tasked with discovering why the incident happened, preventing it recurring, and ensuring Fonterra maintains its "global leadership position within the dairy industry".
The final inquiry, by the Ministry of Primary Industries, will determine whether regulatory requirements under the Food Act and the Animal Products Act were met. That may say as much about the new ministry as the possibility of breaches. Its copybook was blotted this year when its change of name led to meat being held up on Chinese docks. This investigation should reveal whether its size has also led to a diminishing of regulatory focus.
All these inquiries will play a part in restoring confidence in this country's food safety standards in export markets.
But only one will allow the Prime Minister to fulfil his pledge of going to China and looking "down the barrel of their television cameras with the answers as to why this happened, and give consumers confidence that it's been fixed and all issues have been identified".
That will come from the weight implicit in the Government's inquiry.