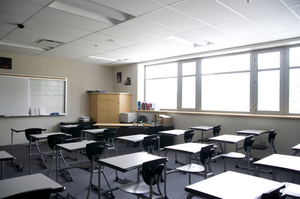 An Auckland teacher has appeared in court on 14 charges related to performing indecent acts on young girls.
Ted Wynyard Davis, of Papatoetoe, did not enter a plea when he appeared in the Auckland District Court yesterday morning.
The 57-year-old faces multiple representative charges of performing indecent acts on girls aged between 9 and 10. They are alleged to have occurred between February 2009 and May this year.
The principal of the school yesterday said they were unable to comment, but the director of the New Zealand Teachers Council, Peter Lind, said: "There is no doubt about it, it's a serious matter and we'll be treating it with that in mind."
Mr Lind said the Teachers Council was made aware of the case by the Ministry of Education.
What happened to Davis now would depend on the outcome of the court case.
"We will be awaiting the outcome of the trial and [after that] he would be referred to a complaints assessment committee [which] could then refer it on to a disciplinary tribunal, depending on the outcome of this case."
A suspension from teaching was possible. "We will be looking to see if that's necessary or not."
No one came to the door at Davis' suburban townhouse in Papatoetoe last night and his lawyer did not return calls.
He was remanded on bail until September 4.
- APNZ