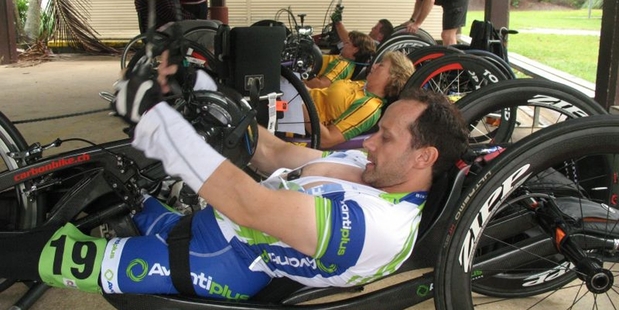 A three-hour cycle ride is gruelling however you do it. But it takes even more effort to use your arms instead of your legs because the muscles have to be pushed to get stronger.
That's why North Shore hand-cyclist Brendon Stratton trains six days a week and his average ride lasts three hours. And he can get up to some speeds - once he clocked 140km/h in his three-wheeled contraption.
"But I didn't realise how fast it was going until the end of it."
On Sunday, the Aucklander heads off to the UCI World Championship and World Cup in Canada. Race distances can vary between 40km and 130km.
Stratton is racing in the 70km event and his time trial is 18km. He has funded the $10,000 for the trip to represent New Zealand out of his own pocket, but he has some sponsors to help him out with his gear.
The sporty 40-year-old business owner, who lost the use of his legs in a car crash in 1987, has been hand-cycling seriously for two years after previously regarding it as a hobby.