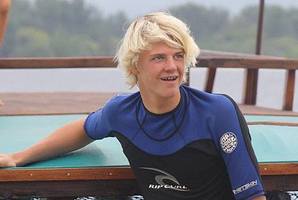 An "outgoing and popular" teenager has died suddenly from an infection after being ill with the flu.
Adam Clegg, 16, of New Plymouth died in Auckland's Starship Hospital this morning after being rushed to hospital at the weekend with a severe infection from Staphylococcus aureus, New Plymouth Boys High School headmaster Michael McMenamin said.
"Last week he was not feeling that well and by Saturday they had moved him to Auckland."
The death of the teenager, who was a "talented artist" and surfer, has left the school in shock, he said.
"He was outgoing, very, very popular with the boys - a great kid.
"He was an absolute top boy."
Clinical microbiologist Arthur Morris said a third of people carried Staphylococcus aureus on their bodies or up their noses and it usually did no harm.
But if a cut got infected with the bacterium or it got into the lungs it could be deadly.
"I don't know whether [Adam] got it but Staph aureus infection after influenza is a severe disease with high mortality. If he did end up with a Staph aureus pneumonia following influenza then that's a serious infection and a reasonably well recognised complication. It's not very common, but when it does happen it's very severe,'' he said.
There was little that could be done to prevent Staphylococcus aureus infection.
"If you know someone's a carrier for Staph aureus and you're going for surgery there are certain things you can do but by and large you can't do much. It's just one of those things.
"Sometimes even if you're on the right antibiotic ... you can still be dead within a few hours. It can happen pretty quickly, that's the scary thing.''
Adam's close friends had been told of his death today and support was offered to them, Mr McMenamin said.
His parents would be in "extraordinary shock", he said.
Students from other schools who knew Adam would also be reeling from the sudden death.
"It's a massive impact all around the community."
Adam's friends have taken to the social networking website Facebook on a page set up in memory of him
Max White wrote: "RIP Adam Clegg. Rest easy man. You always had a nice smile. You will be in everyones heart for ever."
Valdo Walshe wrote: "What can one say. Unbelievable. Deepest sympathy to all the family. Huge hugs."
Another, Alison Arthur wrote of Adam's "compassion and selflessness".
- APNZ