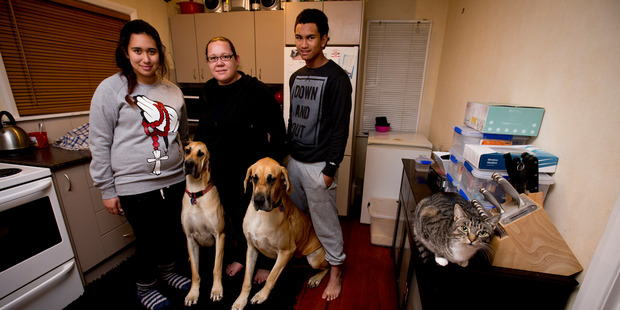 Papakura couple Junior and Kim Sipeli have missed out on a $10,000 gift from the Government because they bought their first house two months too soon.
Mr Sipeli, 39, and his wife, 35, joined KiwiSaver as soon as it started in 2007. They are withdrawing $24,500 from their own and their employers' contributions plus earnings on their investment funds to help buy their home.
They are paying $395,000 for a house in Weymouth - just within the current $400,000 house price limit for an additional Government subsidy, and well below the new limit from October of $485,000.
But their combined income of between $105,000 and $110,000 is above the current $100,000 income limit for the subsidy.
They are exactly the kind of family who will benefit from the Government decision to raise the combined income limit for a couple to $120,000 from October.
But they have missed out because their offer on their new house went unconditional last week - two months before the rules change.
If they had waited two months, the Government would have given them $1000 each for every year they had been in KiwiSaver up to a maximum of $5000, or $10,000 between them.
"It was a bit of a bummer," Mrs Sipeli said. "$10,000 is a lot of money."
Husband and wife have worked all their lives. Mrs Sipeli, a supply chain representative for Mainfreight, was a sole parent for many years and always worked fulltime to support herself and her daughter Ashley, now 16.
She has lived with Mr Sipeli, a warehouse supervisor, for seven years. They saved for their wedding two years ago and then for a house.
"We have only seriously started looking in the last year because we have been able to put money aside for the deposit and to go towards the likes of lawyers' fees and all that sort of stuff," Mrs Sipeli said.
She said KiwiSaver was crucial: "I wouldn't have been able to buy a house without KiwiSaver."
"We were relying on the Housing NZ $5000 [each] as well, but because they said we were not entitled to it, we had to come up with $20,000. We paid the $24,500 for the deposit. We didn't have any more."
This would have ruled them out of a subsidy under the new rules because they didn't have enough for a 10 per cent deposit.
Housing NZ says on its website that the current rules will apply to all applications for KiwiSaver first home subsidies received up to midnight on September 30 by email or up to October 1 by post. Applications after that will be assessed against the new criteria.