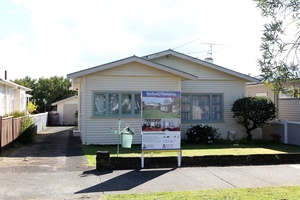 A house was auctioned for more than $1 million just a day after being listed for sale - drawing an official warning about Auckland's pressure-cooker housing market.
Ads on realestate.co.nz and Trade Me showed the two-bedroom house at 4 Seacombe Rd, Pt Chevalier, was listed only on Wednesday yet it was auctioned at 4pm on Thursday.
A spokeswoman for the Real Estate Agents Authority in Wellington said the situation raised "significant concerns".
"The practice is not one that the authority encourages and one that we would strongly urge any vendor or purchaser to take legal advice about prior to entering into," she said.
"From a vendor's perspective, an issue is raised as to whether (they) could receive the best possible result from such a limited marketing campaign.
"For any short marketing or sales programme, the vendor should have been given adequate time to ensure they are well informed about the decisions that are being made and the potential consequence of those."
She said buyers faced undue pressure issues and the limited auction period being used as a way of preventing them undertaking all the due diligence steps recommended.
Soaring property values in Auckland show no sign of slowing, according to latest figures from Quotable Value, and there is a heated market with very few homes for sale.
John Waymouth, a barrister specialising in real estate and acting for many agents, also questioned the situation with the Pt Chevalier house.
"While it's not illegal, it's borderline irregular and could be in breach of the Real Estate Agents Act 2008 and its provisions for a one-day cooling-off period where the vendor has the right to cancel the contract listing the property with the agency.
"I believe the agent should have fully explained to the vendor that a better price could be obtained by wider advertising and longer marketing period," Mr Waymouth said.
Listing and auctioning in such a short time did not necessarily get the best offer and was an extremely unwise move for any seller, he said.
Barfoot & Thompson agent Jack Atherton said the vendors decided on the time frame and he knew of other cases like this. "The market is so active, if you try to hold a buyer for a couple of weeks, you can lose them to another property," Mr Atherton said.
Peter Thompson, Barfoot managing director, said the property was listed on Tuesday but took a day to go on websites. The owners were delighted with the auction, where bidding opened at $1 million, deterring eight or nine others.
Helen O'Sullivan, the Real Estate Institute chief executive, investigated the situation.
She said four buyers had come forward and the property had been on Barfoot's internal system, available to 1,600 agents, since July 31.
"It's a short time frame but there's nothing illegal," she said. "I could put a property on the market today and accept an offer today."

Fast turnover
4 Seacombe Rd, Pt Chevalier
• A day between listing and auction
• Ads appeared online Wednesday
• 2 bedrooms, 1 bathroom
• QV valuation: $700,000
• Sold Thursday $1.05m