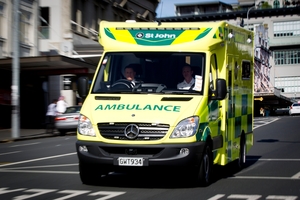 There is nothing mellow about the new colour scheme of St John ambulances - the bright yellow makeover is a move to improve safety for staff, patients and the public.
Two prototype ambulances, in a shade of Euro Yellow, will be on the road from August 9 after which all new St John frontline vehicles will also be painted yellow.
Yellow vehicles are the most noticeable on the road, particularly in low light, and the colour is also the most visible for people with colour blindness - which affects an estimated 1 in 12 men and 1 in 200 women.
Two St John ambulances have been painted in the shade of yellow tested in Europe as the most visible to the human eye.
The ambulances also have a new, bolder design and have been fitted with more reflective signage than that on the predominantly white vehicles.
The distinctive blocks of green and yellow markings are also known to maximise the visibility of the vehicles.
St John operations director Michael Brooke said: "Finding ways to improve the quality and safety of our care and services is really important to St John and having our ambulances and other frontline vehicles yellow and with this new design, is one way we can make them safer and more visible on the road.
"We're expecting to see an improvement in the public noticing and giving way to St John vehicles as they travel to and from treating patients."
The colour conversion will occur in the next 10 years, with around 40 new vehicles each year heading out on the road in the new design.
The prototypes were provided by Action Motor Bodies, who build all St John ambulances that end up travelling over 18 million km a year to attend more than 400,000 patients.