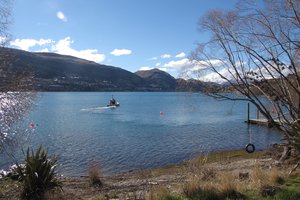 The two-year-old girl who drowned in Lake Wakatipu will be given a community farewell on Saturday.
Violet Elisabeth Waples was found floating face down just 100m from her Queenstown home on Tuesday.
Her parents, Alana and Andrew Waples, who moved to Queenstown from the Hibiscus Coast, north of Auckland last year, are "absolutely devastated'' by the loss of their "beautiful daughter''.
Violet, who was 34 months old, is survived by three siblings - Jacob, Elle, and younger brother Reuben.
The Waples are heavily involved in the C3 Church at Frankton, outside Queenstown, where Mrs Waples is a pastor.
Mr Waples, originally from Southland, works as a builder in the area.
In a death notice published in The New Zealand Herald today, the Waples paid tribute to, "Our beautiful daughter and sister 'Child of the King' is now dancing in heaven.''
"She will hold a special place in everybody's heart.''
A celebration of Violet's life and a community farewell will be held in the City Impact Church in Queenstown on Saturday at 1pm.
Queenstown police yesterday completed a scene examination and will now file a report for the coroner.
"All parents know that they are vulnerable. It's the sort of thing that when the planets don't line up and things go wrong, it is every parent's worst nightmare,'' said local senior sergeant, John Fookes.
He said the child had been inside the house, described as an older property which was "partially fenced'', when her mother noticed her missing.
Police had come to the conclusion the child had walked through a gap in the fencing towards the lake, Mr Fookes said.
Officers searched along the foreshore at the Kelvin Heights Golf Course end of the walking track, which borders the lake.
"At around 12.45pm, police located the child face down in Lake Wakatipu, about 100m from where she'd last been seen,'' Mr Fookes said.
St John staff in Queenstown were called by police to assist at the scene.
"In spite of the best attempts at CPR by both police and St John Ambulance, the child did not regain consciousness,'' Mr Fookes said.
"There are a number of private jetties and shoreline vegetation such as trees and shrubs in the vicinity of where the child was found.
"They [the family] are naturally very, very upset and being supported by family, friends and Victim Support.''
- APNZ